Sport floor series 1005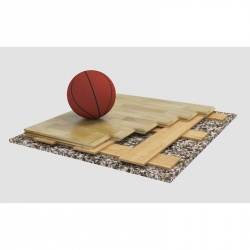 Article:

AVSE1005

Material: Solid wood Hevea

Dimensions: Thickness parquet element: 22 mm

Total thickness 55 mm.

Purpose: Competition, Training activitites

Compliance with: FIBA certified

Suitable for multi sports halls. Has great flexibility hence is recommended for gymnastics sports halls for the elderly or amateur athletes, as the great flexibility of this system contributes to prevent injuries.

Technical description:
The main steps of making the sports floor model are:
• Laying of a polyethylene sheet - 0,20 mm thickness - as anti-steam barrier on the concrete
• Laying of PUR elastic layer, 15 mm thickness, in order to make the floor uniformly resilient
• Onto the elastic layer, longitudinally laying of the bottom spring layer, 9 mm thickness made of plywood strips, with 105 mm spacing between the strips
• Laying of the upper spring layer (same as the previous one, nailed to the bottom one by means of special cramps 92/25) perpendicular to the bottom spring layer, with a distance between centers of 330 mm
• Onto the upper spring layer, wood Hevea solid parquet elements are nailed by means of T-shaped nails
Certifications:
• EN 14904 Certification
• EN 13501 Fire resistance Certificate
Made in: EU
Another sports equipment from category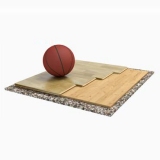 Sport floor series 1003 - FIBA certified
Article:AVSE1003
Material: Solid wood Hevea
Dimensions: Thickness parquet element: 14 mm
Total thickness 41 mm.
Purpose: Training activitites
Ideal solution for both school and multi—sport gyms; quality and durability are granted by a great solid wood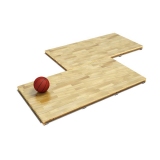 Portable sports floor series 1008 - FIBA certified
Article:AVSE1008
Material: Solid wood Hevea
Dimensions: Thickness parquet element: 22 mm
Total thickness 83 mm.
Purpose: Competition, Training activitites
Compliance with: FIBA certified
Additional: Suitable for big multi—functional facilities. Can be easily removed and is therefore recommended in case the surface needs to be used for trade fairs, concerts, events without the risk of damaging the parquet.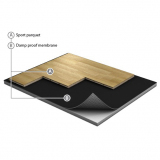 Sport parquet series 2100
Article:AVGR1014
Made in: EU
Material: Parquet, 5G click system, board HDF, boarder shock—absorbing underlay.
Dimensions: Thickness: 28 mm
Weight: 10,3 kg/m2
Colour: Ash nature, oak dark, oak nature.