BIO METER for swim training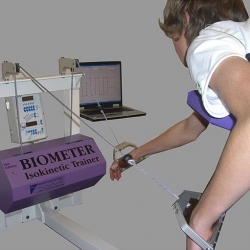 Article:

AVOT1001

Made in: EU

Technicals Features:

Since many years established instrument for perfomance diagnosis and special training.

The integrated force sensor finds out basic data for very detailed analysis and en electronic controlled resistace until generates the unique isonetik force progression.

The plotting unit shows alternatively force, work, powre, frequency or extension length.

The inegrated memory can be read out with aprinter after the exercise unit and shows the swimmer directly the result of his practise and his standard of perfomance.

Force progression can be shown, stored and compared online on the computer with the optional Swim analyzer Software.

The BIO meter is supplied complete with ropes, paddles, bench frame. The training can be started after a short assembly of Bank rack immediately.
Another sports equipment from category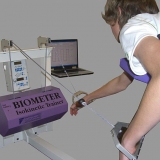 BIO METER for swim training
Article:AVOT1001
Made in: EU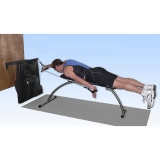 Swimmer simulator Vasa SpaceSaver Ergometer
Article: AVVS1004
A swimming simulator needed to improve stroke technique, increase endurance and muscle strength of the upper body and arms
The compact design is attached to the wall (bench not included).
The kit includes:
— biokinetic block with fasteners
— blades and handles
— electronic sensor Power Meter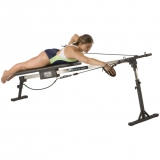 Swimmer simulator Vasa Trainer Pro
Article: AVVS1001
Size: 231x61 cm
Height: 73—104 cm.
Weight: 24 kg.
Size of a standard bench: 34x90 cm.
Necessary area for operation: 122х304 cm.
As standard:
Shovels to simulate swimming —1 pair.
Handles for strength exercises — 1 pair.
Slings for strength exercises — 1 pair.
The patented system of cords and blocks — 1 set.
Rear support post made of steel with anti—corrosion epoxy coating — 1 pc.
Front telescopic support post made of steel with anticorrosive epoxy coating with fixation of 15 height levels and horizontal stock for attaching slings and block system — 1 pc.
Monorail made of aluminum profile, connecting the front and rear support legs — 1 pc.
Movable bench 34x90 cm with rollers — 1 pc.
Rubber harness for weighting and returning the bench — 1 pc.
Rubber harness extension to reduce the load — 1 pc.