Flooring for ice arenas Rinktex 30х60m and Ice seaming and moving equipment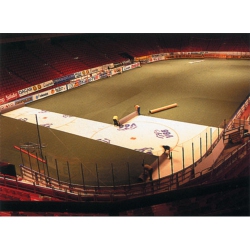 Article:

AVNR1001

Made in: EU

RINKTEX is a specially developed textile product for covering ice rinks. The solution to the problem is to cover the ice with Rinktex isolating sports surface - a firm covering system that can function on its own as a floor surface or as a foundation surface for a more specialised flooring system. It only takes two hours to cover a normal size hockey rink completely.

Colors Grey, red, green, blue.

Consist:

Rinktex – 15 rolls

ice seaming equipment – 1 pce

weight 10 kg – 2 pcs

trolley – 1 pce

A standard hockey field of 60 x 30 m (1800 m2) requires 15 rolls, 4 meters wide and 30 meters long.
The coating is laid directly on ice, asphalt or concrete.
A field of 30 x 60 m is covered by a team of 4-5 people in 2 hours. When laying, the joints of the panels are frozen to ice with hot water using a special device (included in the delivery).
Marking lines can be applied with adhesive tape or paint.
Another sports equipment from category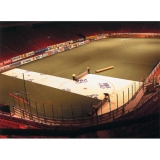 Flooring for ice arenas Rinktex 30х60m and Ice seaming and moving equipment
Article:AVNR1001
Made in: EU
RINKTEX is a specially developed textile product for covering ice rinks. The solution to the problem is to cover the ice with Rinktex isolating sports surface — a firm covering system that can function on its own as a floor surface or as a foundation surface for a more specialised flooring system. It only takes two hours to cover a normal size hockey rink completely.
Colors Grey, red, green, blue.
Consist:
Rinktex – 15 rolls
ice seaming equipment – 1 pce
weight 10 kg – 2 pcs
trolley – 1 pce