Pole Vault Crossbar 4.5 m. IAAF certificate.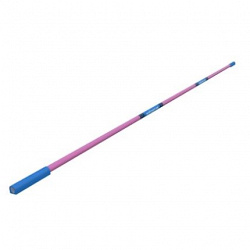 Article: AVNO0028
Made of high quality fibreglass and equipped with approved end pieces according to new IAAF rules. Length 4.5 m. Made in EU.
Another sports equipment from category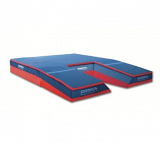 Meeting comfort plus single cover pole vault landing system.
Article: AVDM1006
Dimensions: 7.00 X 5.00 X 0.80 / 0.50 m
Colour: Red, blue
Level: F.F.A / I.A.A.F LEVEL 1
Compliance with: NF EN 12503—2 type 11 certified.
Made in EU.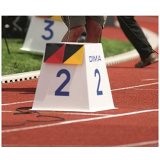 Lane marker box
Article: AVDM1088
Material: Resistant polyester
Dimensions: 50 x 50 x 60 cm
Colour: Red, yellow, blue, white
Lane marker box lightweight, stackable and easy to move. 4—sided markings provides good visibility for competitors, officials and spectators. In wear resistant polyester, with number marking, fitted with 2 false start small plates (1 red and 1 yellow). Made in EU.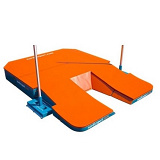 Pole Vault Pit World Cup 4. IAAF certificate.
Article: AVNO0038
Competition pit, IAAF certified. Protection pads for stands included. 800x600x80 cm.