Duckboard PVC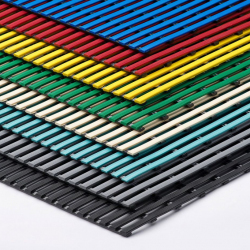 Article:

AVML1050

Made in: EU

Material: Soft and flexible PVC

Dimensions:

Available in 3 different widths:

60, 75, or 90 cm

Thickness: 12.0 mm

Information:

Sold per 10 m roll.

Available Colors:

Blue, Red, Green, Yellow, Mint, Off White, Gray, or Black (black transverse ribs underneath)

Floor Matting, made of soft and flexible yet durable PVC-foam. Slip-resistant, provides a good grip for shoes and bare feet alike. Suitable for wet/dry areas, including sauna. Hygienic, easy to keep clean. Simple to cut length and shape. Intergrated mat drainage makes sure water can run off on all sides.
Another sports equipment from category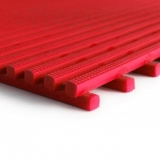 Flooring mat for locker rooms and swimming pools SAFE-T-GRID
Article:AVNS1004
Made in: EU
The SAFE—T—GRID is a plastic grid mat for locations that require high durability and a strong grip. The mats can be easily used to cover large floor surfaces in style. The easy installation allows the usage of SAFE—T—GRID in many applications. SAFE—T—GRID is best suited to places with high foot traffic and heavy loads on the surface. 5 colors.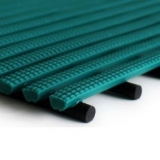 Flooring mat for locker rooms and swimming pools STOP
Article:AVNS1002
Made in: EU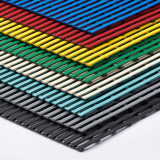 Duckboard PVC
Article: AVML1050
Made in: EU
Material: Soft and flexible PVC
Dimensions:
Available in 3 different widths:
60, 75, or 90 cm
Thickness: 12.0 mm
Information:
Sold per 10 m roll.
Available Colors:
Blue, Red, Green, Yellow, Mint, Off White, Gray, or Black (black transverse ribs underneath)