Duckboard PVC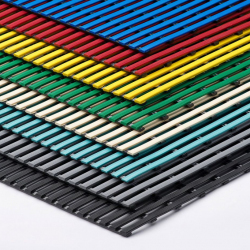 Article: AVML1050
Material: Soft and flexible PVC
Dimensions:
Available in 3 different widths:
60, 75, or 90 cm
Thickness: 12.0 mm
Information:
Sold per 10 m roll.
Available Colors:
Blue, Red, Green, Yellow, Mint, Off White, Gray, or Black (black transverse ribs underneath)
Made in: EU
Floor Matting, made of soft and flexible yet durable PVC-foam. Slip-resistant, provides a good grip for shoes and bare feet alike. Suitable for wet/dry areas, including sauna. Hygienic, easy to keep clean. Simple to cut length and shape.
Intergrated mat drainage makes sure water can run off on all sides.
Another sports equipment from category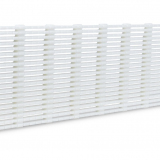 OP Gratings Straight
Article: AVML1075
OP Gratings have a strong, smooth finish with a low roughness factor, which quickly dissipates water and dirt particles. The gratings are therefore easy to clean and require minimal maintenance. Clean with lukewarm water and mild detergent or soap. The gratings can also be treated with household descaling agents. High—pressure washing is not recommended. The gratings should be checked once a month to ensure that no warping, cracks or breakage have occurred. If a grating section is defective, it should be replaced immediately.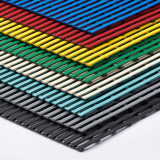 Duckboard PVC
Article: AVML1050
Material: Soft and flexible PVC
Dimensions:
Available in 3 different widths:
60, 75, or 90 cm
Thickness: 12.0 mm
Information:
Sold per 10 m roll.
Available Colors:
Blue, Red, Green, Yellow, Mint, Off White, Gray, or Black (black transverse ribs underneath)