Advanced Movable Floor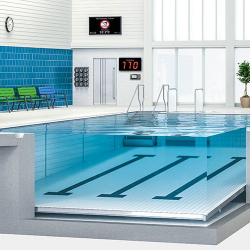 Article: AVML1047
Our movable floors are made of beams in stainless acid—proof steel. The floor covering consists of slip proof (Class C, 24˚) boards of PVC vinyl ester, 117 mm wide and 22 mm thick.
They are installed with 8 mm gaps to create an efficient through—flow.The standard colour of the boards is white. Coloured boards, dark blue or black, can be chosen for swimming lane markings.
Made in: EU
The drive function is provided by screw jacks, each of which is equipped with its own engine.
The software allows you to set the slope from 0 to 3 percent.
The system does not require a special gutter and can be installed in both new and existing pools,
regardless of whether they are tiled or made of stainless steel.
Remote monitoring. The control system has a remote connection for reading operating data,
operating time, number of starts and stops, travel distances, etc.
Another sports equipment from category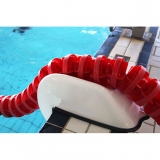 Competitor Lane Slider
Article: AVML1012
Make you Competitor Racing Lane last longer! The Competitor Racing Lane runs smoothly over the Lane Slider and will therefore not be damaged from the hard edge of the pool. It also spares the pool edge from wear and tear and makes the taking—up a lot easier.
Size: 62 x 38 x 44 cm. Weight: 3,3 kg.
Made of glassfiber reinforced vinylester.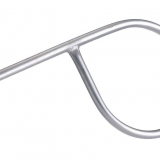 Reach pole
Article: AVML1015
Reach pole in aluminium, used for teaching swimming.
Available in two sizes: 2,5 and 4 m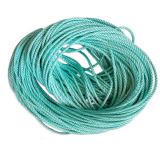 Polythene Rope
Article: AVML1084
Material: Polythene
Dimesions: Ø: 6 mm