Referees' Structure Catwalk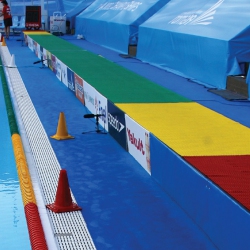 Article: AVML1038
Dimensions:
Total length: 32 m + stairs = 33,6 m
Height: 700 mm Width: 1000 mm Length/Section: 2000 mm.
2 short steps at each end (2 x 0,5 m steps of 200 and 400 mm).
Solid, water proof, with anti—slip cover
Official product for LEN and FINA
Made in: EU
The catwalk has the length of the field of play for water polo, and is 1 meter wide and 70 cm in height. It is an easy hook-on system.
The catwalk has the color markings of the field of play. The color-coded matting is an easy roll-out carpet according to FINA revised rule, effective March 2019, and comes with an add on to inter-change between field of play men and women.
Easy hook-on system

Another sports equipment from category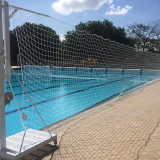 Lockable cart for Stop Net
Article: AVML1082
Height of cart is 2,5m.
Height of net is 2,5m.
Length of wire and net 27m
Made in stainless steel painted for added protection.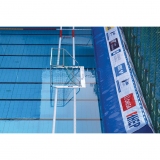 Goal Line
Article:AVML1037
Discs: Ø 100 mm (4")
Technical: Official FINA Field Lines for WP, in accordance with FINA regulation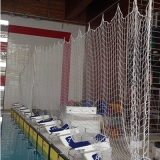 Water Polo stop-net
Article: AVML1079
Water Polo stop—net which can be delivered in custom made sizes.