Official FINA goal for water polo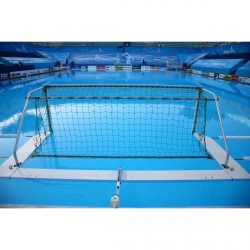 Article: AVML1025
Measurements: 3000 x 900 mm x 1586 mm
Measurements of frame: 80 x 40 mm.
Certified by FINA.
Made in: EU
Free-floating model with reliable frame construction.
Strong aluminum profiles, powder painted white and a floating white support.
The width of the support ensures a stable well afloat goal.
Comes equipped with castors for ease of transport and handling
Nets included
Another sports equipment from category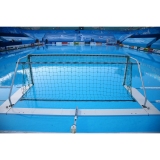 Official FINA goal for water polo
Article:AVML1025
Measurements: 3000 x 900 mm x 1586 mm
Measurements of frame: 80 x 40 mm.
Certified by FINA.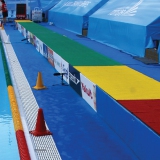 Referees' Structure Catwalk
Article:AVML1038
Dimensions:
Total length: 32 m + stairs = 33,6 m
Height: 700 mm Width: 1000 mm Length/Section: 2000 mm.
2 short steps at each end (2 x 0,5 m steps of 200 and 400 mm).
Solid, water proof, with anti—slip cover
Official product for LEN and FINA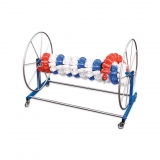 Storage trolley lane line
Article: AVML1013
Material: 316L stainless steel, blue powder coated center beam for added corrosion protection.
4 swivel castors, of which 2 are fixed.
Available in 2 sizes.
1. Size: 1910x1250x1410 mm
Capacity: 150 m dividing track Classic or 75 m dividing path
Gold / Gold PRO
2. Size: 2450x1250x1410 mm
Capacity: 200 m. Classic dividing track or 100 m. Gold / Gold PRO dividing track
Used with hand wheels with a diameter of 1250 mm, which provides excellent grip.