Re-entry Demarcation Line - FINA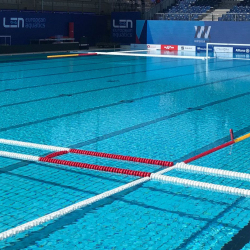 Article: AVML1022
Made in: EU
Discs: Ø 100 mm (4")
Official FINA Field Lines for WP, in accordance with FINA regulation
Located between two goal lines at the edge of the field.
The lines come in red material with carabiners at each end.
Another sports equipment from category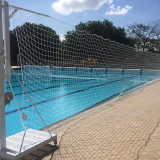 Lockable cart for Stop Net
Article: AVML1082
Made in: EU
Height of cart is 2,5m.
Height of net is 2,5m.
Length of wire and net 27m
Made in stainless steel painted for added protection.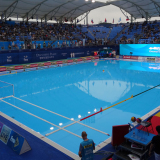 Official FINA Water polo field
Article: AVML1020
Made in: EU.
Water Polo Field for FINA Official Competitions.
Set:
— 2 longitudinal paths,
— 8 paths for support of gate,
— 2 paths — dividers of a zone of removal.
Color combination and field composition according to FINA rules.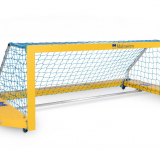 Water Polo Goal Beach/Junior
Article: AVML1026
Made in: EU.
Material: Aluminum.
Measurements: 2500 x 800 mm x 1586 mm
Measurements of frame: 76 x 40 mm.
Colors available: Yellow