Re-entry Demarcation Line - FINA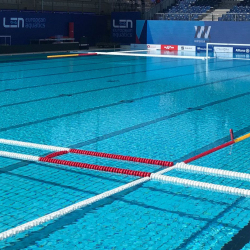 Article:

AVML1022

Made in: EU

Discs: Ø 100 mm (4")

Official FINA Field Lines for WP, in accordance with FINA regulation

Located between two goal lines at the edge of the field.
The lines come in red material with carabiners at each end.
Another sports equipment from category
Water Polo Goal Klappex
Article: AVML1023
Made in: EU
Width 3000 mm.
Height: 900 mm.
The frame is powder coated white.
The floating base is aluminum color.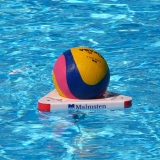 Ball release
Article: AVML1051
Made in: EU
Materials: EVA foam, high density plastic and stainless steel.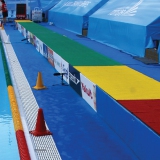 Referees' Structure Catwalk - FINA
Article:AVML1038
Made in: EU
Dimensions:
Total length: 32 m + stairs = 33,6 m
Height: 700 mm Width: 1000 mm Length/Section: 2000 mm.
2 short steps at each end (2 x 0,5 m steps of 200 and 400 mm).
Solid, water proof, with anti—slip cover
Official product for LEN and FINA