Gold PRO Racing Lane Line - FINA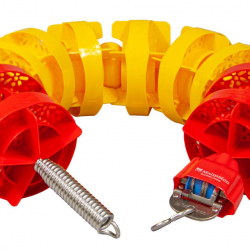 Article:

AVML1009

Made in: EU

Material: latest industrial polyethylene reinforced with high color fastness and stainless steel cable with a diameter of 4 mm

Disc Diameter: 150mm

Length: 25 m. 50 m and more

Wave Energy Absorption: Over 90%

Color: Available in official FINA colors, or custom color combinations.

Color options: white, red, yellow, green, blue, black, orange and purple
Designed using end-to-end technology and with a proven record of performance.
Sold complete with take-up reel and tensioner.
Gold Pro is the best wave breaker and turbulence tool on the market for superior wave suppression.
Another sports equipment from category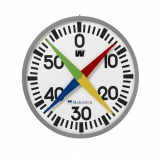 Westerstrand incl. transformer/wall anchor
Article: AVML1092
Made in: EU
Material: Aluminum/Acyrlic
Dimensions:
Ø : 600 mm or 900 mm
Information:
230VAC/24VAC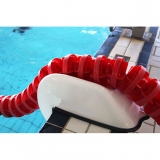 Competitor Lane Slider
Article: AVML1012
Made in: EU
Make you Competitor Racing Lane last longer! The Competitor Racing Lane runs smoothly over the Lane Slider and will therefore not be damaged from the hard edge of the pool. It also spares the pool edge from wear and tear and makes the taking—up a lot easier.
Size: 62 x 38 x 44 cm. Weight: 3,3 kg.
Made of glassfiber reinforced vinylester.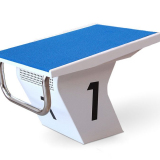 Starting Block PRO - FINA
Article: AVML1019
Made in: EU
Height is usually 400 mm. Alternatives can nevertheless be ordered; 350 or 300 mm.
The top measures 500x700mm.
Stainless steel 316L – protective anti corrosion paint
Effective anti—slip surface
Different size and color options are available upon request.