Gold PRO Racing Lane Line - FINA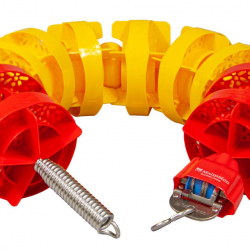 Article:

AVML1009

Made in: EU

Material: latest industrial polyethylene reinforced with high color fastness and stainless steel cable with a diameter of 4 mm

Disc Diameter: 150mm

Length: 25 m. 50 m and more

Wave Energy Absorption: Over 90%

Color: Available in official FINA colors, or custom color combinations.

Color options: white, red, yellow, green, blue, black, orange and purple
Designed using end-to-end technology and with a proven record of performance.
Sold complete with take-up reel and tensioner.
Gold Pro is the best wave breaker and turbulence tool on the market for superior wave suppression.
Another sports equipment from category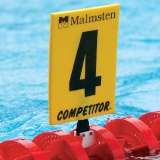 Competitor Gold Lane Numbers for Racing Lanes
Article: AVML1002
Made in: EU
Gold Lane Numbers for competition racing lanes, soft black and yellow foam with numbers on both sides with the Malmsten logo. Comes complete with 2 pairs of weights, to ensure a perfect placement of the lane number sign and a durable plastic clip to attach it onto the Gold disk Ø 150 mm.
Normal numbering series are blank /1 — 8 /blank side for a competition pool with 8 lanes and 9 racing lanes, which means that a total of 18 lane number signs are needed, if placed at both sides of the pool. When the championship is held on 10 lanes, with 11 racing lanes, it requires 22 number signs, and then usually there is a "0" and a "9" lane, in addition to lanes 1 to 8.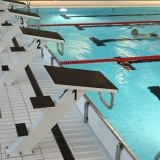 Turn board plastic
Article: AVML1011
Made in: EU
Turn board in plastic with cable fastening. The attachments are made of seamless pipes, diameter 40 x 2 mm, fitting floor mount.
Material: Plastic and Stainless steel EN 1.4404.
1950x300mm alt 2450x300mm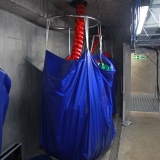 Storage Bag Racing Lane
Article: AVML1008
Made in: EU
Material: 400 gr blue reinforced pvc—cloth.
There is an eyelet for affixing, at the top of bag, and for drainage of excess water, in the bottom bag. Size: 1 — Fits 25m Gold (150mm) line. Measure: 1500 X 1000 X 1000mm. 2 — Fits 25m standard (100mm) line. Measure: 1500 X 600 X 600mm. 3 — Fits 50m Gold (150mm) line. Measure: 1500 X 1200 X 1200mm. 4 — Fits 50m standard (100mm) line. Measure: 1500 X 800 X 800mm.