Gold PRO Racing Lane Line - FINA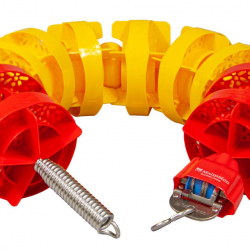 Article:

AVML1009

Made in: EU

Material: latest industrial polyethylene reinforced with high color fastness and stainless steel cable with a diameter of 4 mm

Disc Diameter: 150mm

Length: 25 m. 50 m and more

Wave Energy Absorption: Over 90%

Color: Available in official FINA colors, or custom color combinations.

Color options: white, red, yellow, green, blue, black, orange and purple
Designed using end-to-end technology and with a proven record of performance.
Sold complete with take-up reel and tensioner.
Gold Pro is the best wave breaker and turbulence tool on the market for superior wave suppression.
Another sports equipment from category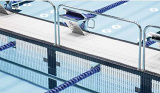 Moveable bulkhead
Article: AVIN1036
Made in: EU
Necessary element, always more essential that enables the versatility of the pool, being able to divide the pool to perform several activities simultaneously. Built respecting all FINA standards and accident prevention, moveable bulkhead are easy to handle and bear a huge overload even in the absence of water.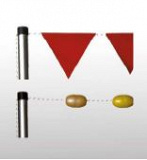 Backstroke turn flag
Article: AVIN1004
Made in: EU
Material: Flags — PVC, cord — polyester.
Sizes: Length on request depending on the width of the pool.
Color: Red

Starting block 1009
Article: AVIN1009
Made in: EU
Material: Stainless steel, Polyester thermosetting resin
Dimensions:
Block size: 500 x 700 mm, Thickness
Base: White
Platform: Non—slip blue paint, other colors on request.
Compliance with:
Made according to FINA rules Additional: Wall or any 30cm platform mounting