Competitor Gold Lane Numbers for Racing Lanes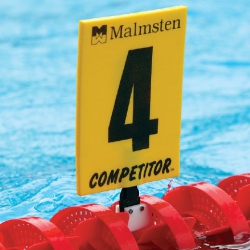 Article:

AVML1002

Made in: EU

Gold Lane Numbers for competition racing lanes, soft black and yellow foam with numbers on both sides with the Malmsten logo. Comes complete with 2 pairs of weights, to ensure a perfect placement of the lane number sign and a durable plastic clip to attach it onto the Gold disk Ø 150 mm.

Normal numbering series are blank /1 - 8 /blank side for a competition pool with 8 lanes and 9 racing lanes, which means that a total of 18 lane number signs are needed, if placed at both sides of the pool. When the championship is held on 10 lanes, with 11 racing lanes, it requires 22 number signs, and then usually there is a "0" and a "9" lane, in addition to lanes 1 to 8.
Another sports equipment from category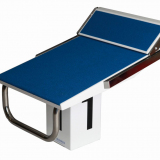 Starting Block Classic with Track Start - FINA
Article: AVML1033
Made in: EU
Material: Stainless steel 316 L, anti—slip cover
Height is usually 400 mm. Alternatives can nevertheless be ordered; 350 or 300 mm.
The top measures 500x700mm.
Different size and color options available upon request.
The top is usually blue but can be ordered in alternative colors
Compliance with: Made according to FINA rules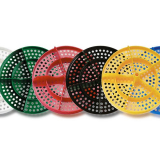 Discs Classic
Article: AVML1045
Made in: EU
Material: polythene.
Sold per set of 2 pcs.
100 mm in diameter — the standard colors of red, yellow, white, blue, green and black. Other colors available upon special order. UV protected.
Normally there is a donut (sold separately) in between each disc.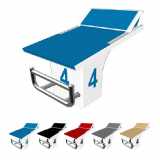 Swimming starting block OMEGA OSB14
Article: 3454.707.TS.BL
Manufacturer: Swiss Timing (Switzerland)
Category: part of swimming timing and scoring system
Specifications:
Adjustable footrest, Antislip surface, Available versions: standard or with RBD (Relay Break Detection) Swimming starting block
■ Dimensions:
Overall size: 739 x 518 mm
Platform size length x width: 740 x 518 mm
Height: max. 655 mm
■ Material: fiberglass
■ Weight: 31 kg
■ Top surface color on your choice (Black / Grey / Ivory / Red, Blue by default)
Certificates: FINA demand compliance