Competitor Gold Lane Numbers for Racing Lanes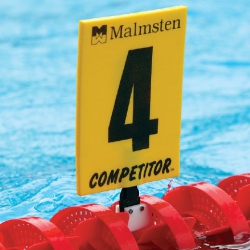 Article: AVML1002
Gold Lane Numbers for competition racing lanes, soft black and yellow foam with numbers on both sides with the Malmsten logo. Comes complete with 2 pairs of weights, to ensure a perfect placement of the lane number sign and a durable plastic clip to attach it onto the Gold disk Ø 150 mm.
Normal numbering series are blank /1 — 8 /blank side for a competition pool with 8 lanes and 9 racing lanes, which means that a total of 18 lane number signs are needed, if placed at both sides of the pool. When the championship is held on 10 lanes, with 11 racing lanes, it requires 22 number signs, and then usually there is a "0" and a "9" lane, in addition to lanes 1 to 8.
Made in: EU
Another sports equipment from category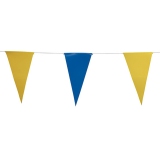 Backstroke Rope
Article: AVML1054
Material: Vinyl/Nylon 650
Dimensions:
Length: 22m or 27m
Flags: Base: 20cm, Sides: 40cm (In accordance with FINA rule FR3.11)
Information:
Available Colors:
All blue flags with Malmsten logo.
Blue/Yellow, Blue/White, Red/Blue, Red/Blue/White

Starting block 1011
Article: AVIN1011
Level: 2
Material: Stainless steel, Polyester thermosetting resin
Dimensions:
Block size: 500 x 700 mm, Thickness
Colour
Base: White
Platform: Non—slip blue paint, other colors on request.
Compliance with: Made according to FINA rules
Additional: Water level mounting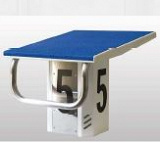 Starting block 1007
Article: AVIN1007
Level: 2
Material: Stainless steel, Polyester thermosetting resin
Dimensions:
Block size: 500 x 700 mm, Thickness
Colour
Base: White
Platform: Non—slip blue paint, other colors on request.
Compliance with: Made according to FINA rules
Additional: Wall or any 30cm platform mounting