Handball goals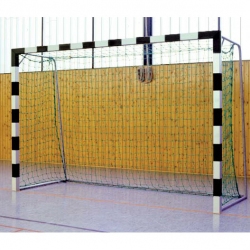 Article:

AVHS2022

Transportable, with aluminium cast corner joints, dimensions: 3 × 2 m.

Incl. rigid net hoops, net hoop supports and ground tubes made of galvanized steel tube, upright cover and Safety system net holders. Made in EU.
Another sports equipment from category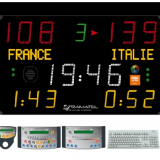 Multisport scoreboard 452 MD 7120-2
Article:AVSR1041
Dimensions: 2700 x 1300 x 90 mm
Weight: 56 Kg
Digit height: 20 and 16 cm
Distance of readability: 90 m
Angle of readability: 160°
Display: LEDs (SMD)
Programmable team names or moving messages display for 1000 characters
Player number: 2 yellow LED digits (6 cm) per player (12)
FIBA approved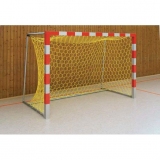 Mini handball goals
Article:mini—handball—goals—transportable—with—folding—net—hoops—240x160—m
Transportable, with folding net hoops, dimensions: 2.40 × 1.60 m.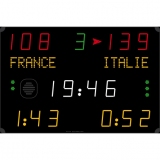 Multisport scoreboard 452 MS 7100
Article:AVSR1030
Use : Indoor
Transmission : Radio (868 MHz) or cable
Readability : 60m, angle >160°
Dimensions : 1500 x 1000 x 90mm
Weight : 24 kg
Power supply : 230V / 50—60Hz
Power consumed: 114 VA
Protection : Unbreakable mat polycarbonate front face (DIN 18032—3)
Integrated Horn : 116dB at 1m
Mains cable (supplied) : 25 m – Typ: 230V, 3G, 0.75 mmІ