Acrobatic track - floor with roll-up track - 14 x 2 m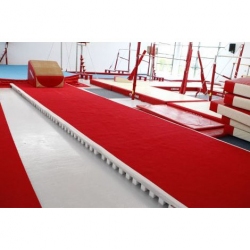 Article:

AVGY1216

Material: PVC cover, JERSEY cover, Foam

Dimensions:

14 x 2 m (LxW).

Thickness: 14.00 cm.

Color: red

Sprung wooden floor sections with roll-up carpet strip. Supplied with floor anti-rotation kit. Attached to floor via integrated hook-and-loop strips. No gaps.
Another sports equipment from category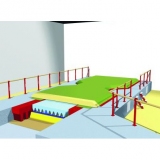 Raised landing pit with integrated platform
Article:AVGY1186
Material: Stretch jersey, PVC, Foam
Color: gray
Dimensions:
Above ground pit, with a platform and wooden guard rail.
This type of pit avoids the need for masonry work.
Provides all the advantages of a GYMNOVA pit (easy exit, visible landing area, hygienic, safe, reduced fire risks), with an advanced design and choice of products.
This pit provides real cushioning for landings, far superior to the technique used for high jump landing (foam lattice).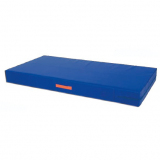 Landing mat
Article:AVSS1040
Filler made of foam, covered with pvc. Dimensions 200x100x20 cm, anti slipping base, density 16 kg/mc. Equipped with handles, zip and breather holes. Made in EU.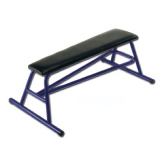 "Pivetta" type unoverturnable bench
Article:AVSS1509
Varnished tubular steel structure, diameter 30 mm, wooden trapezoidal seating bench, thickness 20 mm, padded and covered with synthetic leather and rubber covered floor pads, length 120 cm. Made in EU.