Complete large competition trampoline - 5 x 4 mm bed - with end desks and mat - FIG approved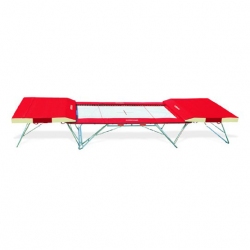 Article:

AVGY1190

Material: steel frame, PVC cover, JERSEY cover, foam

Color: Beige/red

Dimensions:

Unfolded: 520 x 305 x 115 cm (LxWxH).

Folded: 345 x 83 x 220 cm (LxWxH).

Weight: 245 kg.

Compliance with: FIG

Supplied with movable safety end decks (2 decks + 2 safety mats 300 x 240 x 20 cm). End deck is not foldable with the frame.
- 5 x 4 mm bed.
- Reinforced "electro galvanized" steel frame, section profile "egg shaped" (65 x 36 mm).
- 428 x 214 cm bed attached to the frame with 110 tempered steel cylindrical springs + 8 reinforced corner springs.
- Spring padding included, 3 cm thick.
- Pair of movable lifting roller stands.
- Micrometric adjustment of bed flatness with metal tensioners.
Another sports equipment from category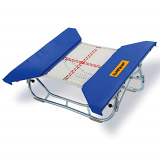 Minitramp "Standard" open-end
Article: AVSP1007
Made in EU.
The "Standard" open—end minitramp with open frame construction, is ideally suited to use in schools or leisure.
Size and weight
[Frame outer dimensions (LxW):] 120x120 cm.
[Dimensions when folded and stored (LxWxH:] ) 140x125x12 cm.
Required room height: Approx. 4.5 to 5 m.
Weight: 38.5 kg.
Can hold up to 90 kg.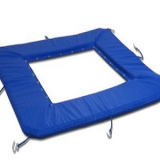 Side protection for trampoline
Article:AVSS1454
For trampoline AVSS1449, rubber foam covered with Btex, with buttonhole application. Made in EU.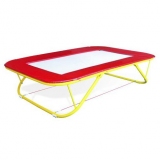 Salto trampoline
Article:AVGY1204
Material: steel frame, PVC cover, JERSEY cover, Foam
Color: beige/red/gray
Dimensions:
Self—assembly frame 374 x 235 cm
Height: 80 cm.
Color: beige/red/gray