Competition pommel horse. Leather.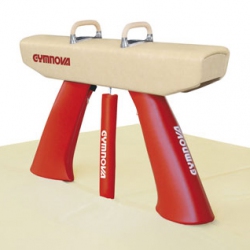 Article: AVGY1093
Material: Leather—covered, Foam, Metal
Color: beige/red
Dimensions:
Height: 0.90 — 1.40 m
Width: 38 — 47 cm.
Pommel horse with standard legs and genuine leather-covered body. Thanks to the body shape of the apparatus, gymnasts can work on a perfectly flat surface. Precise adjustment of pommel width thanks to new markings on the body. Optional: transport trolleys and guards. - Wooden pommels made from plywood and with aluminium base plates.
- Non-slip pads.
Another sports equipment from category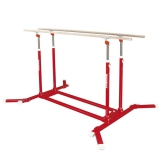 Competition parallel bars with reinforced frame
Article:AVGY1072
Material: Metal / Wood
Color: beige/red
Dimensions:
3.42 x 2.55 m.
Weight: 240 kg.
Compliance with: FIG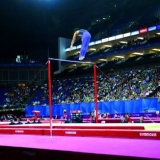 Competition high bar. Standart cable
Article:AVGY1081
Material: Metal / wood
Color: beige/red
Dimensions:
Floor space: 5.50 x 4 m
Height: 2.70 — 2.95 m
Compliance with: FIG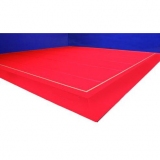 Exercise floor "roll-up tracks"
Article:AVGY1007
Material: Comprises sprungfloor thick roll—up foam/'flame pattern' carpet sections
Color: red
Dimensions: 14 x 14 m, Thickness : 14 cm (10 cm floor + 4 cm track).
Made in: EU.