High bar. Without cable. 1 pers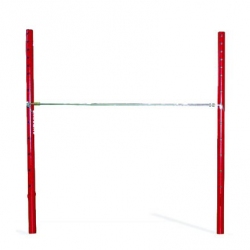 Article:

AVGY1089

Material: Metal / wood

Color: beige/red

Dimensions:

Height: 0.95-2.55 m

Distance between uprights 2.40-2.55 m.

1-person bar (2 uprights, 1 rails)

High bar with uprights in Ø 90 mm steel tubing. Fixed into casings and tightened manually. Rails mounted in omnidirectional pivots to prevent jolting. Supplied with high bar rail and can also take asymmetric bars rail .
This type of cableless bar requires the upright casings to be fixed into the floor.
Another sports equipment from category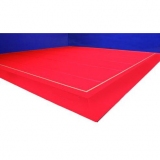 Exercise floor "roll-up tracks"
Article:AVGY1007
Material: Comprises sprungfloor thick roll—up foam/'flame pattern' carpet sections
Color: red
Dimensions: 14 x 14 m, Thickness : 14 cm (10 cm floor + 4 cm track).
Made in: EU.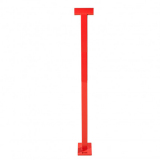 Floor mounted ballet bar support
Article:AVGY1235
Material: Metal
Dimensions:
Height: 105 cm
Color: Red
Barres and brackets not included.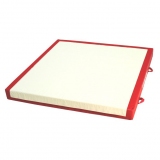 Traditional landing mat for rings - beam - asymmetric, parallel and high bars - with bib on the side - 200x230x20 cm - FIG approved
Article:AVGY1123
Material: Removeable PVC cover, Foam
Color: beige/red
Dimensions:
200 x 230 x 20 cm (LxWxTh).
Compliance with: FIG