Set of landing mats for competition vaulting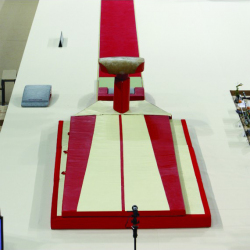 Article: AVGY1114
Material: Removeable PVC cover, Foam
Color: beige/red
Dimensions:
3 mats (dim.: 200 x 260 x 20 cm)
Total area : 15.60 m².
Compliance with: FIG
FIG landing mats made from multi-layered foam providing improved load distribution and optimum stabilization when landing.
They provide cushioning and shock absorption helping gymnasts to further develop their confidence as they extend their ability levels and technique. Fitted with carrying handles and a hook-and-loop strips attachment system (top side) to avoid gaps. Some mats have "cut-outs" to allow them to fit around the apparatus bases. Class M2 fire rating 1,000 denier "leather look" phthalate free PVC cover, removable.
Another sports equipment from category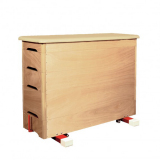 Wooden box
Article:AVGY1056
Material: polyurethane foam / "leather—look" PVC cover / Wood / Metal
Color: beige
Dimensions:
150 x 50 x 110 cm (LxWxH).
with feet: 150 x 80/45 x 110 cm (LxWxH).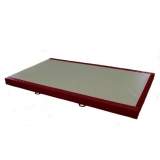 Traditional landing mat for rings - beam - asymmetric, parallel and high bars - with bib on the side - 400 x 230 x 20 cm
Article:AVGY1125
Material: Removeable PVC cover, Foam
Color: beige/red
Dimensions:
400 x 230 x 20 cm (LxWxTh).
Compliance with: FIG
o each other and to avoid gaps (hook and loop fastener on the top).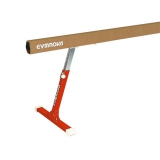 Standard legs competition beam - foam end caps
Article:AVGY1030
Material: Metal / Wood / Soft foam end caps.
Color: beige/red
Dimensions: Length: 5 m.
Top surface width: 10 cm.
Compliance with: FIG
Made in: EU.