Foam parallel bars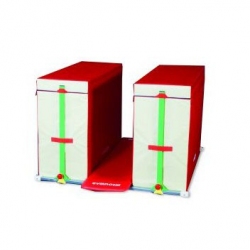 Article:

AVGY1077

Material: PVC / Foam / Metal

Color: beige/red

Dimensions:

2 lower modules. Dim.: 160 x 58 x 100 cm.

2 upper modules. Dim.: 160 x 58 x 12 cm.

1 stabilizing unit. Dim.: 180 x 160 cm.

1 safety mat. Dim.: 200 x 50 x 3 cm.

The stability of the set together with the quality of the foam provides cushioning and reassurance for gymnasts, whilst being sufficiently rigid to maintain a degree of support which is close to the real thing for situations encountered on parallel bars.
Distance between bars adjusts up to 64 cm.
The modules can be used separately to create teaching workshops but you are advised always to use the parallel bars with the upper modules.
Another sports equipment from category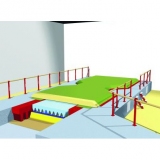 Raised landing pit with integrated platform
Article:AVGY1186
Material: Stretch jersey, PVC, Foam
Color: gray
Dimensions:
Above ground pit, with a platform and wooden guard rail.
This type of pit avoids the need for masonry work.
Provides all the advantages of a GYMNOVA pit (easy exit, visible landing area, hygienic, safe, reduced fire risks), with an advanced design and choice of products.
This pit provides real cushioning for landings, far superior to the technique used for high jump landing (foam lattice).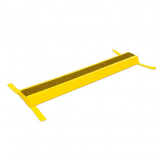 Maxi dyna beam
Article:AVGY1041
Material: PVC
Color: Brown / Yellow
Dimensions: 150 x 24/15 x 8 cm (LxWxH).
Made in: EU.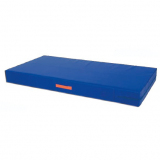 Landing mat
Article:AVSS1042
Filler made of foam, covered with pvc. Dimensions 200x100x30 cm, anti slipping base, density 16 kg/mc. Equipped with handles, zip and breather holes. Made in EU.