Foam parallel bars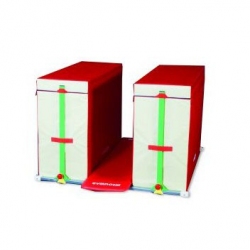 Article:

AVGY1077

Material: PVC / Foam / Metal

Color: beige/red

Dimensions:

2 lower modules. Dim.: 160 x 58 x 100 cm.

2 upper modules. Dim.: 160 x 58 x 12 cm.

1 stabilizing unit. Dim.: 180 x 160 cm.

1 safety mat. Dim.: 200 x 50 x 3 cm.

The stability of the set together with the quality of the foam provides cushioning and reassurance for gymnasts, whilst being sufficiently rigid to maintain a degree of support which is close to the real thing for situations encountered on parallel bars.
Distance between bars adjusts up to 64 cm.
The modules can be used separately to create teaching workshops but you are advised always to use the parallel bars with the upper modules.
Another sports equipment from category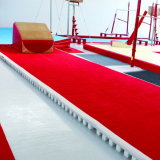 Acrobatic track Elements
Article:AVGY1217
Material: PVC cover, JERSEY cover, Foam
Dimensions:
1.50 x 2 m (LxW).
Thickness: 14.50 cm.
Color: red.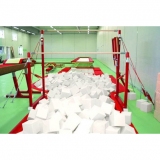 Sunken landing pit with foam cubes
Article:AVGY1187
Material: Foam
Color: beige
Dimensions:
Minimum depth: 1.50 m.
This traditional pit system provides effective shock absorption for landings. The presence of 3 different sizes of foam cubes contributes to their sweeping. The foam cubes can be covered with class M1 fire rated retardant covers (on request).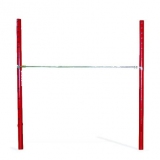 High bar. Without cable. 1 pers
Article:AVGY1089
Material: Metal / wood
Color: beige/red
Dimensions:
Height: 0.95—2.55 m
Distance between uprights 2.40—2.55 m.
1—person bar (2 uprights, 1 rails)