Complete rhythmic gymnastics competition floor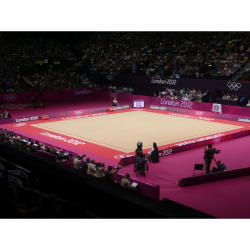 Article: AVGY1014
Material: RG floor base / RG carpet
Color: beige/red
Dimensions: 14 x 14 m
Compliance with: FIG
Made in: EU.
This Rhythmic Gymnastics competition floor has been used at many major events. It offers the gymnast an efficient, dynamic, smooth and even performance area.
The RG competition floor provides excellent shock absorption for the ankles and wrists, minimising the risk of injury during performance and training.
Installation is quick and simple and the contrasting 13 x 13 m performance area is clearly marked allowing for easy orientation during routines.
Another sports equipment from category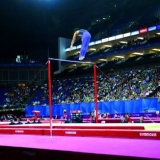 Competition high bar. Standart cable
Article:AVGY1081
Material: Metal / wood
Color: beige/red
Dimensions:
Floor space: 5.50 x 4 m
Height: 2.70 — 2.95 m
Compliance with: FIG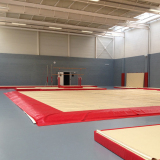 Exercise floor overlay tarpaulin in smooth pvc - 14 x 14 m
Article:AVGY1011
Material: Tarpaulin
Color: beige/red
Dimensions: 14 x 14 m.
Made in: EU.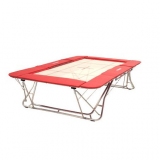 Large competition trampoline - 4 x 4 mm bed
Article:AVGY1197
Material: steel frame, PVC cover, JERSEY cover, foam
Color: Beige/red
Dimensions:
Unfolded: 520 x 305 x 115 cm (LxWxH).
Folded: 345 x 83 x 220 cm (LxWxH).
Weight: 245 kg.
Compliance with: FIG