Sambo Competition Mats Cover - FIAS approved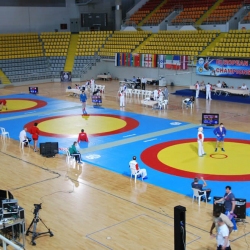 Article:

AVFD1016

Made in: EU

Sambo Mat consists of a mat cover and several mat elements. The official mat of the international SAMBO federation FIAS - for training and competition

Material:

mat elements: ultra light combination from PE-foam and PU-foam.

mat cover: carrier tissue 100% polyester, PVC-coated on both sides.

dimensions: 7 x 7 m, 8 x 8 m, 9 x 9 m, 10 x 10 m, 11 x 11 m and 12 x 12 m

thickness: 50 mm

mat cover fixation: velcro closure

color: three-colored combat surface yellow-red-blue

bottom side: anti-slip layer

two different slab sizes: 1 x 1 m (weight 2,5 kg) and 2 x 1 m (weight 5 kg)
Another sports equipment from category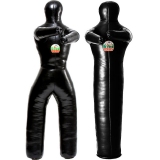 Training Dummy Synthetic
Article:AVFD1019
Made in: EU
Use: amateur sport, training of children and adolescents for all combat sports. for the exercise of throwing and turning movements, clamping methods and boxing blows.
Technical data:
cover made of extremely sturdy and durable vinyl stain—resistant black color, properly and permanently sewn, mono—stitched, seams not coverd filling cotton and sand.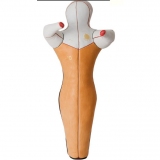 Training Dummy Pro
Article:AVFD1021
Made in: EU
Use: for the daily master workout
designed for mostly upper body drills and throws
to practice slamming, turning, and lifting etc.
Technical data:
cover made of finest cowhide (4 – 6 mm) filling cotton and sand double—stitched, all main seams include safeguarding with integrated core of fibreglass, therefore dimensionally stable even after years.
Please note the following: Traingdummies from the Pro series are made of leather that is chosen because of it´s quality. Dummies from the Pro series are colored differently.
Since this item is unique and intricately crafted by hand, this may entail slight dimensional and/or weight variations.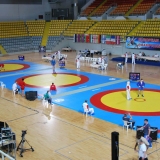 Sambo Competition Mats Cover - FIAS approved
Article:AVFD1016
Made in: EU
Sambo Mat consists of a mat cover and several mat elements. The official mat of the international SAMBO federation FIAS — for training and competition
Material:
mat elements: ultra light combination from PE—foam and PU—foam.
mat cover: carrier tissue 100% polyester, PVC—coated on both sides.
dimensions: 7 x 7 m, 8 x 8 m, 9 x 9 m, 10 x 10 m, 11 x 11 m and 12 x 12 m
thickness: 50 mm
mat cover fixation: velcro closure
color: three—colored combat surface yellow—red—blue
bottom side: anti—slip layer
two different slab sizes: 1 x 1 m (weight 2,5 kg) and 2 x 1 m (weight 5 kg)