Basic portable shot put throwing platform with integrated toeboard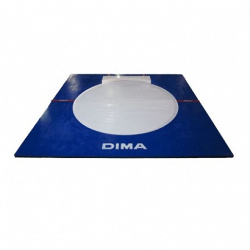 Article: AVDM1117
Overall dimensions: 3.10 x 3.06 x 0.04m.
Ideal for indoors.
This platform consists of an approved shot circle (2.135m diameter) with the interior made of 22mm thick CTBX plywood, covered with a special paint mixed with sand for a better grip. The circle is mounted on a CTBX plywood platform.
Perfectly stable, this platform consists of two sections assembled for quick fixing.
Made in EU.
Basic portable shot put throwing platform with integrated toeboard height 40 mm
Another sports equipment from category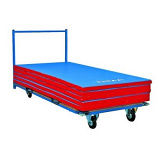 Horizontal transportation cart for mats
Article: AVDM1113
Dimensions: 200x100cm.
Maximum load: 500kg.
Very robust and manoeuvrable cart, ideal to store mats in a reduced space. Wooden deck mounted on a metal framework with 4 wide rubberized non—marking castors (2 swiveling). Made in EU.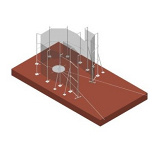 IAAF aluminum hammer cage with galvanized steel doors and ground sleeves
Article: AVDM1098
IAAF Approved and certified n°E—99—0090.
All frames are reinforced by an interior collar casing up to a height of 2.40 m, thereby avoiding any breaking point. Nets (in rot—proof braided 5 mm diameter polypropylene, 40 x 40 mm mesch, high resistance, black, EN—1263—1 certified) are mounted "floating" in order to avoid any "danger of ricochet or rebound towards the athlete and over the cage` according to I.A.A.F rules. Easy raising and lowering of the net using nylon rollers. Delivered with sleeves and nets. Made in EU.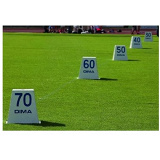 Long throwing distance marker box
Article: AVDM1177
Dimensions: 50 x 50 x 60 cm.
The long throwing distance marker box to be placed on throwing distance marks for shot. Essential for spectators to visualise performance.
Light and stackable, manufactured in wear resistant polyester, colour impregnated.
Made in EU.