Physical Education Starting blocks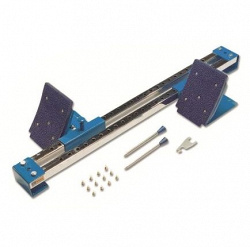 Article: AVDM1085
Colour: Grey, blue.
Fast and easy adjustment. Lightweight model with a double bar center rail for multiple adjustments. Blocks made of aluminium and has PVC pads.
Delivered with spikes and pins to hold the starting block on synthetic or cinder track. Made in EU.
Physical Education Starting blocks
Another sports equipment from category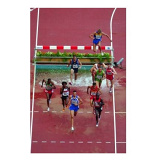 Steeplechase water jump barrier with surface mount. IAAF certificate.
Article: AVDM1079
Material: Wood.
Adjustable height to 76 and 91 cm.
Colour: Red, white
Compliance with: I.A.A.F certified n° E—99—0085.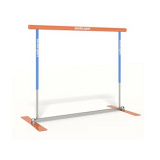 Spring Back Hurdle Elite
Article: AVNO0056
Heights: 686, 762, 838, 914, 991 and 1067.
Spring back hurdle for training with official IAAF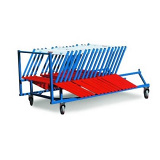 Hurdle cart for 30 hurdles
Article: AVDM1170
This hurdle cart is ideal to transport and store 30 hurdles (International, Club, etc.).
Universal model, very much appreciated by coaches and officials.
Made in EU.