Elite competition starting blocks. IAAF certificate.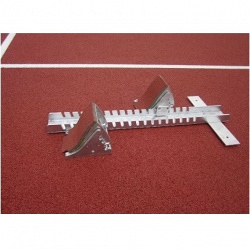 Article:

AVDM1082

Colour: Grey.

Compliance with: I.A.A.F approved and certified n° E-99-0088.

Figures and letters markings on the center rail to allow for precise pedal set-up. Pedals / blocks adjustable to 4 different angles. 12 mm thick synthetic pads. Starting blocks made of aluminium, heavy and stable. Made in EU.

Elite competition starting blocks
Another sports equipment from category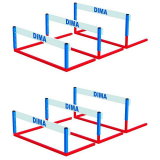 Baby hurdle set of 6
Article: AVDM1198
These baby hurdles are perfectly suitable for athletic's schools and track work.
Made of lacquered tubular steel with adjustable heights by flipping over the hurdle : 25—30—35—40—45—50—55 et 60cm.
Width: 60cm.
Hurdles board fixed with magnets for increased safety and less apprehension.
Made in EU.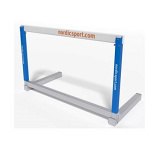 Hurdle Alu-Matic. IAAF certificate.
Article: AVNO0053
Fully automatic aluminium hurdle. Adjustable heights from 762 mm to 1067 mm. Hurdle crossbar made out of plastic.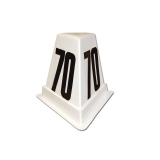 Distance marker
Article:AVSS1099
Pyramid suitable to mark section, numbered. Made of fibreglass. Made in EU.