Aluminium Club hurdle
Article:

AVDM1074

Hurdle construction made from aluminium, PVC lath.

Adjustable heights: 76 - 84 - 91 - 99 - 106 cm.

Colour: Blue, grey, white, red.

Leightweight, in oval extruded aluminium, without counterweights. Allows a technical work without apprehension. Prestigious finish for this unique hurdle. Made in EU.
Another sports equipment from category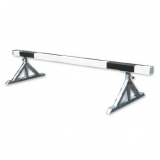 Mobile steeplechase hurdles set
Article:AVSS1433
Galvanized and ballasted tubular steel structures. Weatherproof wooden crossbars varnished white with black bands. Nr 1 hurdle is 500 cm long and nr 3 hurdles are 396 cm long. In accordance with IAAF rules. Made in EU.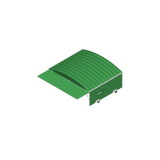 Shed on swiveling wheels for 3 hurdle carts
Article: AVDM1189
Capacity: 3 hurdle carts.
Jack—operated door for easier handling, a lower ground clearance and optimum security.
Made in EU.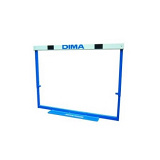 Special Educational Club hurdle
Article: AVDM1075
Adjustable heights: 65 — 76 — 84 — 91 — 99 — 106 cm.
Colour: Blue, white.
Light with no L—shaped supports, this hurdle allows for lateral training without risk of sprain. Made in EU.