Aluminium Club hurdle
Article:

AVDM1074

Hurdle construction made from aluminium, PVC lath.

Adjustable heights: 76 - 84 - 91 - 99 - 106 cm.

Colour: Blue, grey, white, red.

Leightweight, in oval extruded aluminium, without counterweights. Allows a technical work without apprehension. Prestigious finish for this unique hurdle. Made in EU.
Another sports equipment from category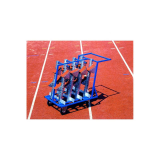 Compact starting blocks cart
Article: AVDM1185
Essential cart to carry and store 8 starting blocks.
Easy to use, nice design, very maneuvrable. Equipped with a handle for easy maneuvering.
Mounted on 4 100mm wheels (2 fixed wheels and 2 swiveling wheels). Made in EU.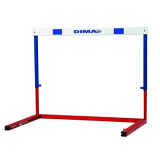 Painted International hurdle. IAAF certificate.
Article: AVDM1072
Hurdle construction made from epoxy painted steel, PVC lath.
Adjustable heights: 65 — 76 — 84 — 91 — 99 — 106 cm.
Colour: Blue, red, white.
Compliance with: I.A.A.F certified n° E—99—0086.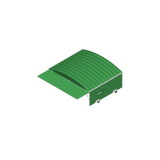 Shed on swiveling wheels for 3 hurdle carts
Article: AVDM1189
Capacity: 3 hurdle carts.
Jack—operated door for easier handling, a lower ground clearance and optimum security.
Made in EU.