Aluminium Club hurdle
Article:

AVDM1074

Hurdle construction made from aluminium, PVC lath.

Adjustable heights: 76 - 84 - 91 - 99 - 106 cm.

Colour: Blue, grey, white, red.

Leightweight, in oval extruded aluminium, without counterweights. Allows a technical work without apprehension. Prestigious finish for this unique hurdle. Made in EU.
Another sports equipment from category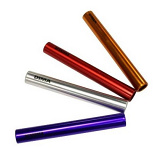 Aluminum relay batons
Article: AVDM1172
Lenght:
[29.5cm. Diametre:] 38.5mm.
Set of 4 batons.
IAAF certified.
Anodised aluminum relay batons with 4 different colors. Made in EU.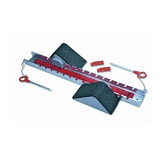 Schools Starting blocks
Article: AVDM1086
Colour: Grey, red, black.
Center rail with 14 adjustment options. Blocks made of aluminium and has rubber pads. Delivered with spikes and pins to hold the starting block on tracks. Made in EU.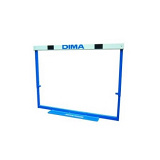 Special Educational Club hurdle
Article: AVDM1075
Adjustable heights: 65 — 76 — 84 — 91 — 99 — 106 cm.
Colour: Blue, white.
Light with no L—shaped supports, this hurdle allows for lateral training without risk of sprain. Made in EU.