Aluminium Club hurdle
Article:

AVDM1074

Hurdle construction made from aluminium, PVC lath.

Adjustable heights: 76 - 84 - 91 - 99 - 106 cm.

Colour: Blue, grey, white, red.

Leightweight, in oval extruded aluminium, without counterweights. Allows a technical work without apprehension. Prestigious finish for this unique hurdle. Made in EU.
Another sports equipment from category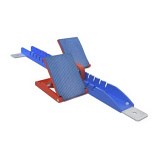 Starting Block Elite. IAAF certificate.
Article: AVNO0051
A top class block with wider pedals. Rubber faced pedals made of aluminium. Rail made of aluminium profile. Made in EU.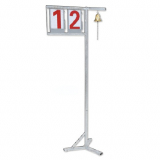 Lap scoreboard
Article:AVSS1147
Galvanized steel structure with solid base complete with two numbered indicators (from 0 to 9) manually operating. Including bronze track bell with chain. Made in EU.
Baby hurdle set of 3
Article: AVDM1197
These baby hurdles are perfectly suitable for athletic's schools and track work.
Made of lacquered tubular steel with adjustable heights by flipping over the hurdle : 25—30—35—40—45—50—55 et 60cm.
Width: 60cm.
Hurdles board fixed with magnets for increased safety and less apprehension.
Made in EU.