Multi-position high jump standards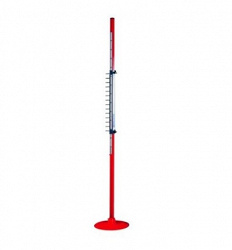 Article: AVDM1046
Heights from 0.60 to 2.20 m.
Colour: Blue, red, white.
Allows the crossbar or elastic tape to be quickly positionned at various heights using 14 bar rest pins placed every 5 cm. Heavy base to avoid any risk of falling over. Made in EU.
Multi-position high jump standards
Another sports equipment from category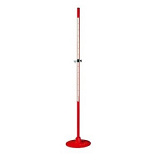 Club high jump standards
Article: AVDM1047
Material: Electrogalvanised steel.
Heights from 0.60 to 2.20 m

Colour: Red, white
Electrogalvanised bar rest pin and hook for elastic tape. Heavy base. Made in EU.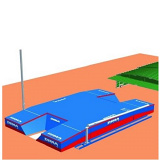 Pole-vault rail with sliding cart to be fixed or embedded
Article: AVDM1027
Dimensions: 1500 x 350 mm
Heavy base fitted with adjustment screws for leveling the pole vault uprights in the event of uneven ground.
Visualization of the rolling base positioning by metric indicator supplied with a locking system.
Interior sliding rolling base guided by 8 ball—bearing wheels and 4 lateral wheels for increase alignment. 2 adjustable tie rods for upright stability. Made in EU.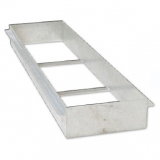 Box for take-off board
Article: AVSS1434
Galvanized steel. Made in EU.