Multi-position high jump standards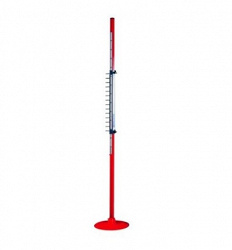 Article:

AVDM1046

Heights from 0.60 to 2.20 m.

Colour: Blue, red, white.

Allows the crossbar or elastic tape to be quickly positionned at various heights using 14 bar rest pins placed every 5 cm. Heavy base to avoid any risk of falling over. Made in EU.

Multi-position high jump standards
Another sports equipment from category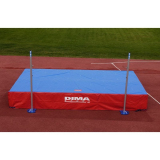 Weather cover for high jump landing system
Article: AVDM1221
In 1000 denier Tergal fabric. 4 stitchings Seam. System with hooks and straps in the corners closing the weather cover to the landing mat, and protecting against high wind.
Possibility of insertion of the draining dome, preventing from water stagnation on the landing mat (optional).
Made in EU.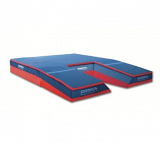 Meeting comfort plus single cover pole vault landing system.
Article: AVDM1006
Dimensions: 7.00 X 5.00 X 0.80 / 0.50 m
Colour: Red, blue
Level: F.F.A / I.A.A.F LEVEL 1
Compliance with: NF EN 12503—2 type 11 certified.
Made in EU.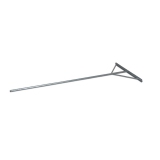 Rake
Article:AVSS1572
Galvanized steel rake for sandbox. Made in EU.