Physical education high jump landing system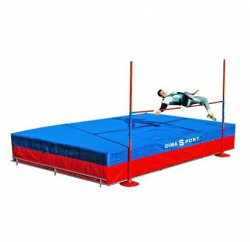 Article:

AVDM1036

Dimensions: 4.50 X 2.50 X 0.50 M

Colour: Blue, red

Each block is equipped with sturdy carry handles.

The block filler is made of polyurethane foam with a density of 24 kg / m?.

Made in EU.

Physical Education High Jump landing system
Another sports equipment from category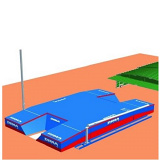 Pole-vault rail with sliding cart to be fixed or embedded
Article: AVDM1027
Dimensions: 1500 x 350 mm
Heavy base fitted with adjustment screws for leveling the pole vault uprights in the event of uneven ground.
Visualization of the rolling base positioning by metric indicator supplied with a locking system.
Interior sliding rolling base guided by 8 ball—bearing wheels and 4 lateral wheels for increase alignment. 2 adjustable tie rods for upright stability. Made in EU.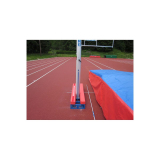 Extended pole-vault rail base pad
Article: AVDM1203
I.A.A.F. N° E—99—0077 certified.
Meets FFA (French Federation for Athletics) and I.A.A.F. specifications.
Compliant, these base pads have been specialy designed to fit our extended pole—vault rails (ref.AVDM1201).
Steel structure covered with compact foam encased in highly resistant PVC fabric.
Adjustable velcro measurement scale on top of the pad.
Made in EU.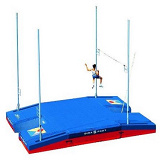 International double-front up & down modular pole vault landing system
Article: AVDM1022
Dimensions: 11.00 X 6.00 X 0.87 / 0.47 M
Distance between vault boxes: 7.00 m
Colour: Red, blue
Level: F.F.A / I.A.A.F LEVEL 2
Compliance with: NF EN 12503—2 type 11 certified.