Competition pole-vault uprights without slider carts. IAAF certificate.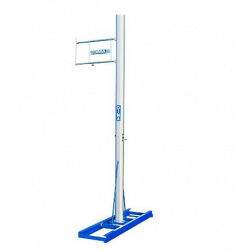 Article: AVDM1028
Height adjustment from 1.70 to 6.45m.
These uprights have to be combined with rails and sliding carts (several models available).
Made from extruded ovoid aluminum, strong, reliable and easy to use, this IAAF competition pole-vault uprights model is highly appreciated for training and competition. Made in EU.
Another sports equipment from category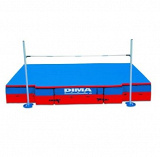 Challenger modular high jump landing system
Article: AVDM1040
Level: F.F.A / I.A.A.F LEVEL 1
Dimensions: 6.00 X 3.25 / 3.00 X 0.70 M
Colour: Blue, red
Level: F.F.A / I.A.A.F LEVEL 1
Compliance with: NF EN 12503—2 type 10 certified.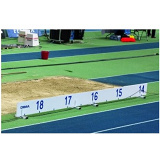 PVC distance indicator board for long jump
Article: AVDM1168
High quality and optimal legibility. This PVC distance indicator board comes with a white lacquered steel stand. Made in EU.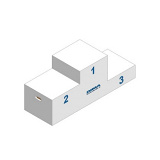 3 place wooden award`s stand
Article: AVDM1091
Made from 33mm CTBX plywood.
Dimensions: 150 x 50 x 60 cm
Colour: White
Made in EU.