Competition pole-vault uprights without slider carts. IAAF certificate.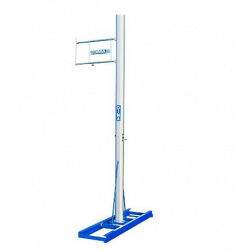 Article: AVDM1028
Height adjustment from 1.70 to 6.45m.
These uprights have to be combined with rails and sliding carts (several models available).
Made from extruded ovoid aluminum, strong, reliable and easy to use, this IAAF competition pole-vault uprights model is highly appreciated for training and competition. Made in EU.
Another sports equipment from category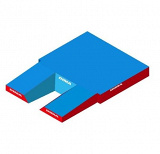 Federal comfort plus single cover pole vault landing system.
Article: AVDM1009
Dimensions: 7.50 X 5.50 X 0.80 / 0.50 m

Colour: Red, blue

Level: F.F.A / I.A.A.F LEVEL 1

Compliance with: NF EN 12503—2 type 11 certified.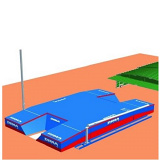 Pole-vault rail with sliding cart to be fixed or embedded
Article: AVDM1027
Dimensions: 1500 x 350 mm
Heavy base fitted with adjustment screws for leveling the pole vault uprights in the event of uneven ground.
Visualization of the rolling base positioning by metric indicator supplied with a locking system.
Interior sliding rolling base guided by 8 ball—bearing wheels and 4 lateral wheels for increase alignment. 2 adjustable tie rods for upright stability. Made in EU.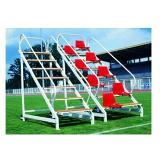 Timers and judges stand - 8 steps
Article: AVDM1094
Provides good visibility.
Very robust and stable steel galvanized construction.
Steps made from anti—skid CTBX wood.
Safety handrail.
Fitted with wide wheels for easy mobility.
Made in EU.