Meeting double-front comfort plus single cover pole vault landing system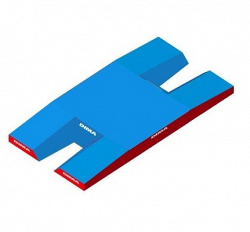 Article:

AVDM1020

Dimensions: 10.00 X 5.00 X 0.80 / 0.50 M

Distance between vault boxes: 6.00 m.

Colour: Red, blue

Level: F.F.A / I.A.A.F LEVEL 1

Compliance with: NF EN 12503-2 type 11 certified.

The blocks and the upper mat are covered with weather-resistant synthetic material, the upper side of which is covered with a mesh to protect against studded shoes.
The upper mat is 7 cm thick with a cover made of material that protects from studded shoes.
Additional upper mat-cover.
The block filler is made of polyurethane foam with a density of 24 kg / m³.
Blocks, mats connected by belts.
Double font extensions 200 cm.
Made in EU.
Another sports equipment from category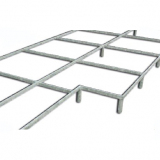 Support platform to raise the landing area
Article:AVSS1173
Support platform to raise the landing area. Galvanized steel structure complete with floor pads. Dimensions in accordance to landing area's dimensions. Price at square mt. Made in EU.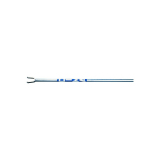 Mini high jump crossbar placer
Article: AVDM1212
Made from aluminum, leightweight and easy to manipulate.
Length : 110cm
Made in EU.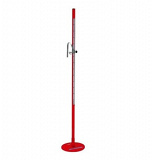 Club high jump standards with deflector
Article: AVDM1048
Material: Electrogalvanised steel
Heights from 0.60 to 2.20 m.
Colour: Red, grey.
Electrogalvanised bar rest pin, with elastic attachment and deflector to prevent crossbar from falling vertically and injuring athlete on landing. Allows a work with crossbar without apprehension. Heavy base. Made in EU.