Federal single cover pole vault landing system, model.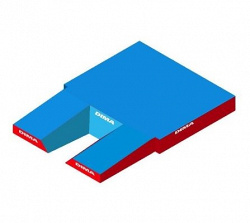 Article:

AVDM1010

Dimensions: 7.50 X 5.50 X 0.80 / 0.50 m

Colour: Red, blue

Level: F.F.A / I.A.A.F LEVEL 1

Compliance with: NF EN 12503-2 type 11 certified.

The blocks and the upper mat are covered with weather-resistant synthetic material, the upper side of which is covered with a mesh to protect against studded shoes.
The upper mat is 7 cm thick with a cover made of material that protects from studded shoes.
The block filler is made of polyurethane foam with a density of 24 kg / m³.
Blocks, mats connected by belts.
Font extensions 200 cm.
Made in EU.

Price: 12352€
Another sports equipment from category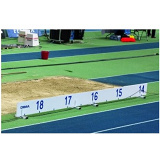 PVC distance indicator board for long jump
Article: AVDM1168
High quality and optimal legibility. This PVC distance indicator board comes with a white lacquered steel stand. Made in EU.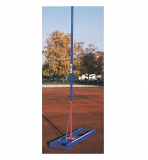 Stadium pole-vault uprights
Article: AVDM1031
Material: Galvanized steel
Crossbar height adjustable from 1.20 to 5.50 m.
Colour: Blue, red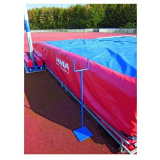 Support for foldable pole-vault standards
Article: AVDM1030
Material: Epoxy painted steel
Colour: Blue
This support for foldable pole—vault standards enables to hold the standards once folded preventing them from touching the ground. Made in EU.