Training Hurdle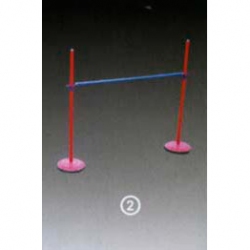 This equipment is no longer supplied. Please search through the catalog for analogues.
Article:

training-hurdle

Made in: Germany

Model: RU 27025

Category: Athletics equipment

Specifications:

Simple training hurdle.

Consists of 2 base units (can be filled), 3 gymnastic sticks and 2 joints.
Another sports equipment from category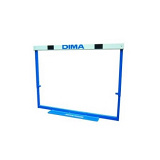 Special Educational Club hurdle
Article: AVDM1075
Adjustable heights: 65 — 76 — 84 — 91 — 99 — 106 cm.
Colour: Blue, white.
Light with no L—shaped supports, this hurdle allows for lateral training without risk of sprain. Made in EU.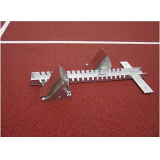 Elite competition starting blocks. IAAF certificate.
Article: AVDM1082
Colour: Grey.
Compliance with: I.A.A.F approved and certified n° E—99—0088.
Figures and letters markings on the center rail to allow for precise pedal set—up. Pedals / blocks adjustable to 4 different angles. 12 mm thick synthetic pads. Starting blocks made of aluminium, heavy and stable. Made in EU.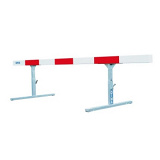 Steeplechase barrier 4 m.IAAF certificate.
Article: AVDM1076
Adjustable barrier height to 76 and 91 cm.
Compliance with: I.A.A.F certified n° E—99—0084.