TIMING CONSOLE Power Time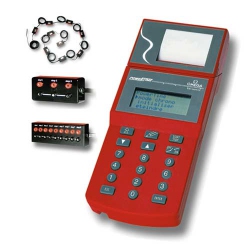 This equipment is no longer supplied. Please search through the catalog for analogues.
Article:

timing-console-power-time

Manufacturer: Swiss Timing

Model: Power Time

Category: Refereeing and timing systems

Specifications:

Dimensions : 235 x 95 x 40 mm

Weight : 410 g, without batteries

Temperatures : operating: -20 +40°C storage: -30 to +60°C

printer: -10 to +40°C

Int. power supply : 4 alkaline 1.5V batteries (type AA/R6/UM3)

Ext. power supply : 9 to 15 VDC

Timebase : Thermo-compensated

±1ppm @20°C, ±10ppm from -20 to +40°C

Resolution : 1/1000 sec to 1 sec

Chronograph : 23.59.59.99 repetitive

Keyboard : 10 numeric keys, round,

8 function keys, rectangular

Acoustic signal : 4 KHz

Display : alphanumeric LCD, 4 lines of 16 char. each

Printer : 24 alphanumeric characters

Print speed : 1,5 sec per line

Paper : Thermal, width 58 mm, length 8m

Printing capacity : 2000 lines per roll

Connections : RS232 (data); RS485 (display)

General Description:
This time-keeping device is composed of a 24 digits printer and a 4x16 digits LCD. Despite its small size no stone has been left unturned to assure the operator's comfort. Firmware and software are downloaded through a serial port. Upgrade and new applications are freely available on website. PowerTime has several in/out connectors allowing it to be linked to the required peripherals. A combined RS232/RS422 serial port allows it to connect to a scoreboard and a PC for the display and the transfer of the results.

Thanks to the available peripherals, PowerTime is able to process athletic, ski and swimming competitions (harness with a push button per swimming line). It is also used for measuring speed among many other applications. Ideal as a complement to other timing devices in registering the start and arrival times in any sports event.