Timekeepers Stand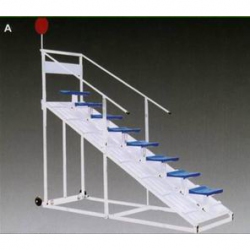 This equipment is no longer supplied. Please search through the catalog for analogues.
Article:

timekeepers-stand

Made in: Germany

Model: RU 56420

Category: Athletics equipment

Specifications:

Made of aluminium with 8 comfortable plastic seats.

Foldable. Needs little storage space.

Fitted with wheels for easy mobility. Comes with detachable signal board.

Timekeepers stands can also be delivered for more than 8 persons.
Another sports equipment from category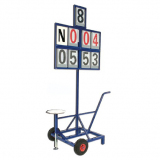 Field event scoreboard
Article:AVSS1148
With eight figures, manual operating, mobile.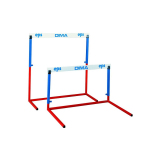 School hurdle set of 6
Article: AVDM1192
10 possible height adjustments.
Heights: 55 — 60 — 65 — 70 — 76 — 84 — 91 — 96 — 99 — 106 cm — Width: 1m
Baby hurdle set of 3
Article: AVDM1197
These baby hurdles are perfectly suitable for athletic's schools and track work.
Made of lacquered tubular steel with adjustable heights by flipping over the hurdle : 25—30—35—40—45—50—55 et 60cm.
Width: 60cm.
Hurdles board fixed with magnets for increased safety and less apprehension.
Made in EU.