Textile Canopy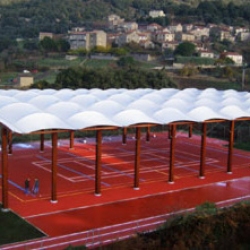 This equipment is no longer supplied. Please search through the catalog for analogues.
Type: Canopy
Technical Features:
The technical features are highly dependent from the concrete requirements.
The textile canopy is an innovative, standardized construction system that is used for the simple covering of playing fields (Tennis, Soccer, Skating, Handball, Basketball, etc.), tribunes and sports halls.
The canopy consists of a glued-laminated timber frame or a steel frame and a translucent textile membrane. Thus no artificial lighting is necessary during the day. Sports like Tennis can be played at wind, rain or snow. It is a light construction that requires a very short installation time and low investment costs. As a natural barrier the membrane does not store heat in summer and limits the cold surface in winter.