Steeplechase Hurdle freestanding 396cm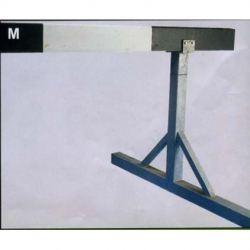 This equipment is no longer supplied. Please search through the catalog for analogues.
Article:

steeplechase-hurdle-freestanding-396cm

Made in: Germany

Model: RU 26429

Category: Athletics equipment

Specifications:

Electronic wind gauge without moving parts according to IAAF regulations.

Necessary for international competitions (rule 163.11).

Displays average wind speed over 5, 10 or 13 seconds.

Complete with tripod and carrying case.

Meets all IAAF specifications.
The stable base legs (made of galvanized steel or strong aluminium) are height adjustable.
Strong, multiple laminated, weatherproof wooden crossbar, black and white.
(can also be delivered as IAAF certified version).