Stadium tip up seats AC certificated by FIBA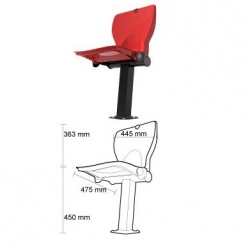 This equipment is no longer supplied. Please search through the catalog for analogues.
Article:

stadium-tip-up-seats-ac-certificated-by-fiba

Made in: EU

Model: AC

Category: Tribune, seats

Technicals Features:

Tip up seat for conventional stands in new projects or for upgrading existing installations specially the ones with narrow tread (reforms). Optimizes the available space at the sport venue, allows to fold itself occupying a minimum space. Possibility of a great number of complements, could be customized to our clients' needs, for example, adding a publicity in the own seat.

- Seat and backrest with neat surface, to prevent dirt accumulation.

- The seat is tipping-up by spring action.

- Chassis in steel profiles cold laminated S275 and cataphoretic coating. Optional painted.

- The reinforcement beams in the seat and backrest shapes a special advertising space for adhesive ads.

Light resistance: Additive anti-UV, UNE EN 13200/4.

Resistance to severe public use (vandalism): UNE EN 12727:01- Adima certificates are available.

Fire resistant: As a general standard, all of the seats are produced with fire restriction additives, as required by the M-4 norm. We can produce them up to the M-2 norm.

Installation options:

INDIVIDUAL
Floor mounted.

Riser mounted.

Folding bracket for retractable bleacher.
COLLECTIVE
On benches floor mounted.