Manual Scoreboard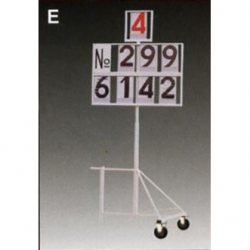 Article:

manual-scoreboard

Made in: Germany

Model: RU 56425

Category: Athletics equipment

Specifications:

Revolving fibreglass scoreboard mounted on a robust wheelaway base.

Comes with 8 weatherproof cassette numbers (24cm high),

which can be adjusted from 0-9.
Another sports equipment from category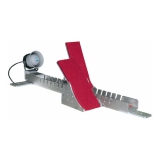 Starting blocks Track & field
Article: 3457.901
Manufacturer: Swiss Timing (Switzerland)
Category: Scoring and Timing systems component
Specifications: Starting blocks with the latest false start detection technology, without any mechanical moving parts, successfully used at the highest levels of competition. The sets include loudspeakers and sets of cables on drums.
The footrest angle can be adjusted to 4 positions between 55° and 73°.
The footrest can be moved horizontally within 16 positions spaced of 35.5 mm giving a maximum distance of 502.5 mm between the front and back feet.
Acoustic signals: False start: ~100 dB
Gun shot : ~90 dB
Connection : 1x Tuchel 4pMT (for thrust sensors and loudspeaker)
Certifications: IAAF Certified Product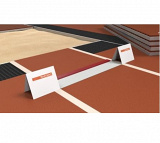 Take Off Board Markers
Article: AVNO0048
An aid to help the jumper and the public see the position of the take off board. Delivered in pairs. Made in EU.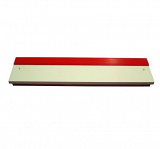 Competition take-off board. IAAF certificate.
Article: AVDM1056
Dimensions: 122 x 30 x 10 cm.
Colour: Red, beige.
Compliance with: I.A.A.F certified n° E—99—0093.
Take—off board for long and triple jump. White gloss wood, fixed on an aluminum frame with leveling bolts for perfect alignment with the level of the track. Equiped with a red foul board for a good visibility by the athlete. Delivered with screw extractors for board ease of handling. Made in EU.