Manual Scoreboard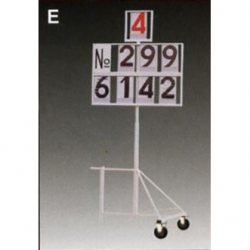 Article: manual—scoreboard
Made in: Germany
Model: RU 56425
Category: Athletics equipment

Specifications:
Revolving fibreglass scoreboard mounted on a robust wheelaway base.
Comes with 8 weatherproof cassette numbers (24cm high),
which can be adjusted from 0—9.
Another sports equipment from category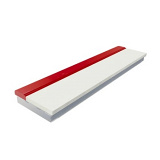 Take Off Board System Elite. IAAF certificate.
Article: AVNO0045
High quality take off board. With under structure of aluminium on which a board of wood is mounted. Equipped with height adjustment for perfect fitting. Complete with demountable plasticine insert. Steel scraper for applying plasticine included. Made in EU.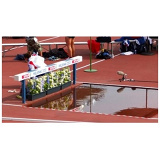 Steeplechase Water Pit. IAAF certificate.
Article: AVNO0054
Under structure of powder coated steel with hurdle bar of strong wood. For concrete embedment. Length 366 cm. Adjustable height. Made in EU.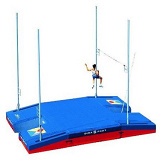 International double-front up & down comfort plus single cover pole vault landing system
Article: AVDM1023
Dimensions: 11.00 X 6.00 X 0.87 / 0.47 M

Distance between vault boxes: 7.00 m

Colour: Red, blue

Level: F.F.A / I.A.A.F LEVEL 2

Compliance with: NF EN 12503—2 type 11 certified.