Competition high bar - FIG approved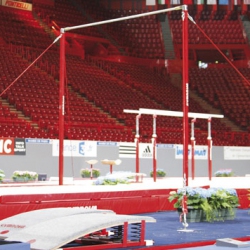 This equipment is no longer supplied. Please search through the catalog for analogues.
Company: Gymnova
Model: 3020
Category: Gymnastics equipment

Technicals Features:
Top level model with solid steel rotating heads. The two rotation axis are mechanically designed to give a perfectly jolt free "gimbals" effect.
Model for high level gymnastics with caps made of chrome steel, uprights ø 70 mm, quick and easy assemble and disassembly using fast tensioners.
Anti—slip pads, coated cable system.
Height adjustment from 2.70 to 2.85 m.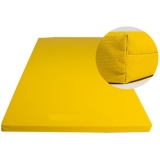 Mats for Schools Gym Exercises (with zipper) without additions
Made in: EU
Model: with zipper without additions
Category: Equipment for gymnastics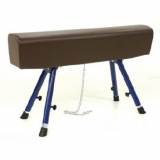 Vaulting horse, covered with natural leather, adjustable height
Made in: EU
Model: S00102
Category: Main gymnastics equipment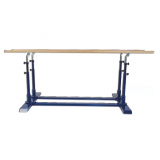 Parallel bars, adjustable in height and width
Made in: EU
Model: S00152
Category: Main gymnastics equipment