Bench PCG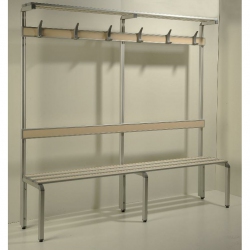 This equipment is no longer supplied. Please search through the catalog for analogues.
Made in: Italy
Model: PCG
Category: equipment for locker rooms

Technicals Features:
Bench with anodised aluminium structure, complete with top, backrest, coat—hanger and bag stand. Aluminium slat seat with HPL finish, 0.9 mm thick. Available sizes: 1.00 m, 1.50 m, 2.00 m.