Basketball practice unit 703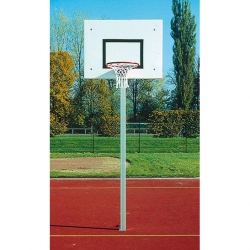 This equipment is no longer supplied. Please search through the catalog for analogues.
Company: Haspo
Model: 703
Category: Equipment for basketball

Technicals Features:
Basket height 3050 mm
Incl. back board mountings, glass—fibre back boards with baskets
coloured orange, net coloured white, ground sockets – insertion
depth 500 mm – with cover and special wedges
Equipment specially developed for practice
purposes and chiefly used in school yards, playgrounds, and
open-air swimming pools. This equipment is also made of
espesially thick-walled special aluminium alloy 80 × 80 mm sqare
profiles and is therefore extremely stable – and the basket height
meets competition requirements.
- special wedges prevent equipment wavering in especially stable
ground sockets
- the back boards are mounted on a solid aluminium rear
structure fitted directly to the upright
- easy and quick assembly
- glass-fibre back boards measuring 120 × 90 cm – absolutely
weatherproof. Scratch- and impact-resistant finish
Standard equipment: Natural bright aluminium finish.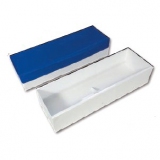 Basketball backboards - extra ballast container
Made in: EU
Model: S04129
Category: Equipment for basketball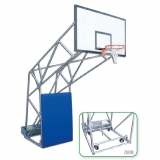 Basketball backboards, Olympic, with ballast box
Made in: EU
Model: S04026
Category: Equipment for basketball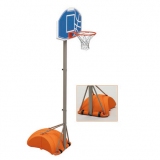 Basketball and mini-basket unit, portable
Made in: EU
Model: S04008
Category: Equipment for basketball