Locker room bench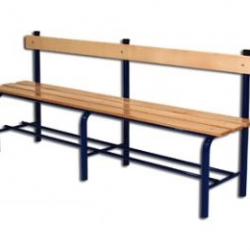 Article:

AVSS1390

Dimension 200x40x85 cm. With backrest.

Locker room bench 2 metres complete with backrest. Tubular varnished steel structure diameter 40 mm, with shoe shelf underneath. Seating area and backrest made of varnished wooden planks, section 100×21 mm. Rubber floor pads. Made in EU.
Another sports equipment from category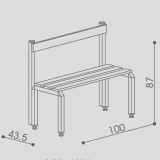 Bench with backrest series "Comfort"
Article:AVGS1006
Made in: EU.
Material: aluminium profile, HPL, 12 colors to choose.
Standard measurements:
Height: 87 cm
Depth:: 43,5 cm
Length: 100, 200 cm.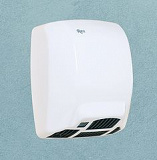 Hand dryers AVRZ1006
Article: AVRZ1006
Made in EU.
Material: Shock resistant epoxy lacquered steel casing
[Air exhaust (m3/h):] 450
[Exhaust temp. (°C):] 43
[Nominal output (Watt):] 2250
[Weight (kg):] 5.0
[Dimensions (BxHxT):] 276x325x164 mm
Operating voltage 230V.
Sound level 65 dB.
Air Stream 2000 and MFLW 2 optoelectronic motion detection (range 0–40 cm).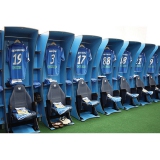 VIP locker room individual module
Article:AVSS1387
Composed of main cabin with shelves and clothes hanger rail, side column with shelves and lockable door, all the above made in colored hpl, including synthetic leather covered armchair to be installed inside main cabin. Solution to be totally customized on dimensions, finishing, chromatic combinations over than the choice of armchair model. Made in EU.