"Manoni" type landing mat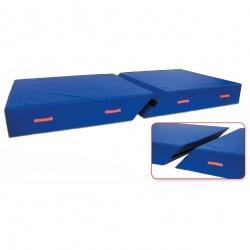 Article:

AVSS1060

Filler made of foam, covered with pvc. Dimensions 400x200x40 cm, composed of two elements cutted at 45° to be joined together by attaching the velcro strips. Density 16 kg/mc. Equipped with handles, zip and breather holes. Made in EU.
Another sports equipment from category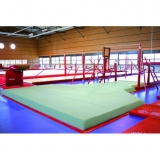 Suspended sunken landing pit
Article:AVGY1184
Color: gray
Dimensions:
Minimum depth: 1.20 m.
This kind of pit has the following advantages:
— The design of this pit model enables it to be exited easily and without effort after use.
— Landing area visible: the top of the pit is raised 20 cm above the ground (FIG mats height).
— Pit edges are completely guarded, providing improved safety for gymnasts.
— Hygienic, reduced fire risk and easy to maintain.
— Provides phased shock absorption.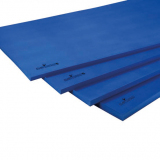 Mat Gold K16
Article: AVSS1078
Dimensions: 200x100x4 cm. Filler: polyurethane. Made in EU.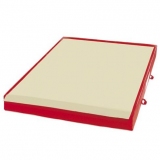 Traditional landing mat for rings - beam - asymmetric, parallel and high bars - with bib across width - 200x200x20 cm - FIG approved
Article:lAVGY1117
Material: Removeable PVC cover, Foam
Color: beige/red
Dimensions:
200 x 200 x 20 cm (LxWxTh).
Compliance with: FIG