Horizontal bar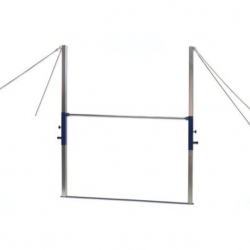 Article: AVSS1030
Adjustable heights, bar diameter 28 mm.
Adjustable heights. Support columns made of varnished and galvanized steel. Treated steel bar, diameter 28 mm, mounted onto radial joints, complete with braces and tensions regulators with floor pads. Made in EU.
Another sports equipment from category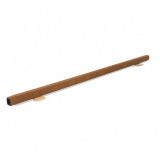 Low beam - height 20 cm
Article:AVGY1036
Material: Wood / PVC
Color: beige
Dimensions:
Height: 20 cm.
Length: 5 m.
Top surface width: 10 cm.
Made in: EU.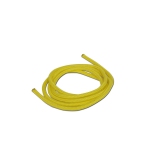 Skipping rope for rhythmic gymnastic
Article:AVSS1487
Coloured cotton skipping rope for rhythmic gymnastic, with leaded centre on the whole length, length 280 cm. Made in EU.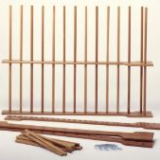 Swedish wall bar
Article:AVSS1125
Dimension: 180x250 cm, assembled. 2 spans. Naturally varnished beech wood. Beech wood ladder steps, protruding top ladder step and other re—entering one for suspension exercises. Dismantled model to build up using screws of 6 mm. Complete with galvanized steel mounting hinges. Made in EU.