Olympic pommel horse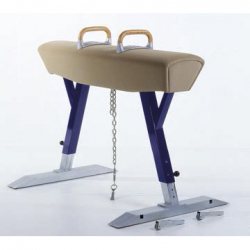 Article:

AVSS1016

Covered with suede, adjustable height.

Suitable for competitions equipped with handles, double steel tubular legs equipped with automatic height regulator for adjusting to required heights; transport devices included. Tightening chain and anchor wedge for fixing to the floor. Padded wooden trunk covered with suede. Equipped with lamellar wooden handles fixed onto aluminium supports, width adjustable. Made in EU.
Another sports equipment from category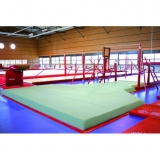 Suspended sunken landing pit
Article:AVGY1184
Color: gray
Dimensions:
Minimum depth: 1.20 m.
This kind of pit has the following advantages:
— The design of this pit model enables it to be exited easily and without effort after use.
— Landing area visible: the top of the pit is raised 20 cm above the ground (FIG mats height).
— Pit edges are completely guarded, providing improved safety for gymnasts.
— Hygienic, reduced fire risk and easy to maintain.
— Provides phased shock absorption.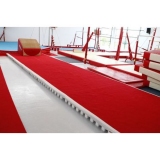 Acrobatic track - floor with roll-up track - 14 x 2 m
Article:AVGY1216
Material: PVC cover, JERSEY cover, Foam
Dimensions:
14 x 2 m (LxW).
Thickness: 14.00 cm.
Color: red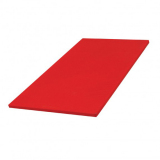 Mat for school without attachment strips and reinforced corners
Article:AVGY1145
Material: PVC cover, Foam
Color: Red
Dimensions:
200 x 100 x 4 cm (LxWxTh).
Weight: 7 kg.