Olympic pommel horse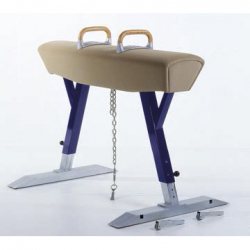 Article: AVSS1016
Covered with suede, adjustable height.
Suitable for competitions equipped with handles, double steel tubular legs equipped with automatic height regulator for adjusting to required heights; transport devices included. Tightening chain and anchor wedge for fixing to the floor. Padded wooden trunk covered with suede. Equipped with lamellar wooden handles fixed onto aluminium supports, width adjustable. Made in EU.
Another sports equipment from category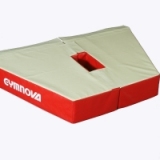 Vaulting table pedestal base surround
Article:AVGY1047
Material: polyurethane foam / PVC
Color: beige/red
Dimensions:
Width runway side: 1 m.
Width landing mats side: 2 m.
Length: 1.20 m.
Thickness: 30 cm.
Made in: EU.
Solid wood wall bar (5 pers set)
Article:AVGY1227
Material: Wood
Dimensions:
Length: 403 cm,
Height: 2.70 m.
Color: Brown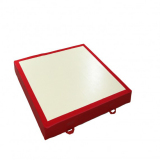 Standart landing mat - FIG approved
Article:AVGY1127
Material: Removeable PVC cover, Foam
Color: beige/red
Dimensions:
200 x 200 x 20 cm (LxWxTh).
Compliance with: FIG