Waterpolo scoreboard 452 PB 3120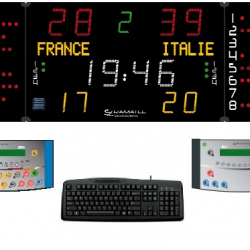 Article:

AVSR1008

Dimensions: 3400 x 1150 x 90 mm

Weight: 69 Kg

Digit height: 25 and 20 cm

Distance of readability: 90 m

Angle of readability: 160°

Display: LEDs (SMD)

Horn (116dB at 1m)

Power supply/consumed: 230V/50-60Hz / 160VA

Team names: 20 yellow alphanumerical characters (12 cm)

Player numbers: white stickers (1 to 15)

FUNCTIONS:
- Display of the scores, the timer, the match period, the penalty and the time outs.
- Console with radio control.
- Day Time: When the scoreboard is not in use
- Individual fouls: 3 x red LED points per player
Supported sports: Waterpolo
Made in EU.
Another sports equipment from category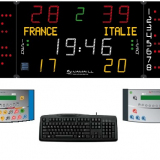 Waterpolo scoreboard 452 PB 3120
Article:AVSR1008
Dimensions: 3400 x 1150 x 90 mm
Weight: 69 Kg
Digit height: 25 and 20 cm
Distance of readability: 90 m
Angle of readability: 160°
Display: LEDs (SMD)
Horn (116dB at 1m)
Power supply/consumed: 230V/50—60Hz / 160VA
Team names: 20 yellow alphanumerical characters (12 cm)
Player numbers: white stickers (1 to 15)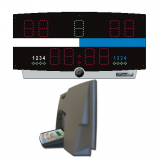 Waterpolo scorebaord W-TOP Battery (PORTABLE)
Article:AVSR1055
Dimensions: 730 x 370 x 110 mm
Readability: 35 m, angle view: 160 °
Max digits height: 9 cm
Weight: 5,5 kg
Power supply: Integrated Built—in lead—acid batteries 2 x 6V 4,5Ah (about 20 hours capacity)
Team indication: white and blue stickers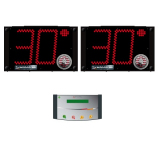 SC30 Waterpolo scorebaord Radio Battery Autonom
Article:AVSR1056
Use: Indoor
Transmission: Radio (868 MHz)
Readability: 130m, angle >160°
Dimensions: 500 x 300 x 65 mm
Weight: 4 kg per unit
Power supply: Built—in lead—acid batteries 12V 2,3Ah
Protection: Unbreakable mat polycarbonate front face
Integrated Horn : 115dB at 1m