Sport floor series 1002 - FIBA certified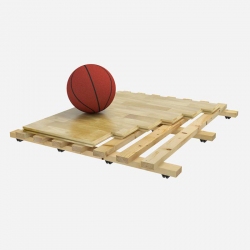 Article:

AVSE1002

Material: Solid wood Hevea

Dimensions: Thickness parquet element: 22 mm

Total thickness 83 mm.

Purpose: Competition, Training activitites

Compliance with: FIBA certified

This solution's been specifically developed for basketball and for sports activities requiring a great ball rebound, together with an excellent elasticity and deformation to impacts.

Technical description:

• Laying of the bottom spring layer; fir battens are settled in the parallel way and have 23 mm thickness, 50 mm width, 3000-4000 mm length, with a distance between the boards of approx. 400 mm.
• 15 mm thickness neoprene rubber pads are nailed to the bottom spring layer in order to make the surface resilient and able to absorb players impact.
• Sports floor consisting of double spring layer made of fir boards with elastic neoprene elements - trapezoid shaped – and top layer made of solid pre-lacquered parquet strips 22 mm thickness.
Total thickness 83 mm.
Certifications:
• Sports parquet floor - FIBA certified
• EN 14904 Sports Flooring Certifications.
• EN 13501 Fire resistance Certificate
Made in: EU
Another sports equipment from category
Mobile sports floor S20 - FIBA/ IHF certified
Article:AVSL1001
Made in: EU
Compliance with:FIBA/ IHF certified
Technical description:
Top layer: 3.6 mm parquet wear layer.
Wood species: oak and hard maple.
Varnish colors: upon request.
Middle layer: 15 mm special plywood in accordance with EN 13986 — EN 636—2S.
Interlocking: Patented ® aluminium interlocking system.
Bottom layer: 18 mm laminate composite foam
Total thickness: approx. 37 mm.
Module size: 2470 x 613 mm (1.51 m² per module)
Weight: approx. 24 kg per module / approx. 16 kg per m².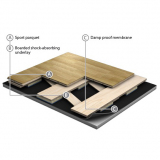 Sport parquet series 2020 - FIBA
Article:AVGR1013
Made in: EU
Material: Parquet, boarder shock—absorbing underlay, damp proof membrance.
Dimensions: Thickness: 39 mm
Weight: 11,5 kg/m2
Colour: Ash nature, ash rustic, oak dark, oak nature.
Compliance with: FIBA.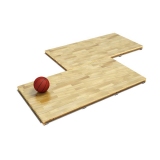 Portable sports floor series 1008 - FIBA certified
Article:AVSE1008
Material: Solid wood Hevea
Dimensions: Thickness parquet element: 22 mm
Total thickness 83 mm.
Purpose: Competition, Training activitites
Compliance with: FIBA certified
Additional: Suitable for big multi—functional facilities. Can be easily removed and is therefore recommended in case the surface needs to be used for trade fairs, concerts, events without the risk of damaging the parquet.