Sport floor series 1002 - FIBA certified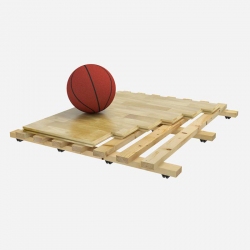 Article: AVSE1002
Material: Solid wood Hevea
Dimensions: Thickness parquet element: 22 mm
Total thickness 83 mm.
Purpose: Competition, Training activitites
Compliance with: FIBA certified
This solution's been specifically developed for basketball and for sports activities requiring a great ball rebound, together with an excellent elasticity and deformation to impacts.
Technical description:
• Laying of the bottom spring layer; fir battens are settled in the parallel way and have 23 mm thickness, 50 mm width, 3000-4000 mm length, with a distance between the boards of approx. 400 mm.
• 15 mm thickness neoprene rubber pads are nailed to the bottom spring layer in order to make the surface resilient and able to absorb players impact.
• Sports floor consisting of double spring layer made of fir boards with elastic neoprene elements - trapezoid shaped – and top layer made of solid pre-lacquered parquet strips 22 mm thickness.
Total thickness 83 mm.
Certifications:
• Sports parquet floor - FIBA certified
• EN 14904 Sports Flooring Certifications.
• EN 13501 Fire resistance Certificate
Made in: EU
Another sports equipment from category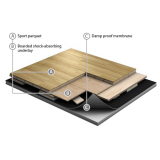 Sport parquet series 2000 - FIBA/IHF
Article: AVGR1011
Made in: EU
Material: Parquet, boarder shock—absorbing underlay, damp proof membrance.
Dimensions: Thickness: 47 mm
Weight: 16 kg/m2
Colour: Ash nature, ash rustic, oak dark, oak nature.
Compliance with: FIBA, IHF.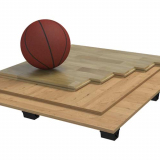 Sport floor series 1004
Article: AVSE1004
Material: Solid wood Hevea
Dimensions: Thickness parquet element: 22 mm
Total thickness 76 mm.
Purpose: Training activitites
High—performance sports floor; solid wood is combined with the new Air Flex elastic pad, enhancing flexibility features of Hevea Rubber Wood. This model has been developed for professional competitions.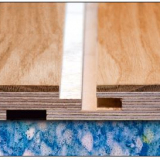 Sports floor Flex-Panel Parquet 36 - FIBA certified
Article: AVSL1009
Made in: EU
Compliance with:FIBA certified
Technical description:
Top layer: 3.6 mm parquet wear layer.
Wood species: oak and hard maple.
Varnish colors: upon request.
Middle layer: 15 mm special plywood in accordance with EN 13986 — EN 636—2S.
Interlocking: Patented ® aluminium interlocking system.
Elastic layer: 18 mm PU Composite Foam (loose—lay installation).
Vapour Barrier Membrane: 200 µ PE film, loose—lay installation, overlapping by about 10 cm.
Total thickness: approx. 37 mm.
Module size: 2467 x 590 mm (1,45 m2 per module)
Weight: approx. 23 kg per module / approx. 16 kg per m².