4x4 essence multifunction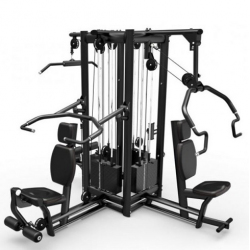 Article:

AVSA1037

Material: 3 mm reinforced steel

Dimensions: 238 x 236 x 221 cm

Color: Black, grey

Workload:

High pulley: 75 kg 5 kg plates.

Leg extension / Shoulder Press: 75 kg plates 5 kg.

Chest Press / Dorsal Rower: 75 kg 5 kg plates.

Adjustable Pulley: 50 kg 2.5 kg plates.

Purpose: training

Additional:
- 200º polyester powder coating, black matt finishing.
- Transmission pulleys with ball bearings.
- High resistance power cable tensor built.
- Adjustable and multifunction pulley to different heights with possibility to change grip accessories.
- Antibacterial upholstery MRSA Standard, SANITIZED, fireproof M2 Standard, UNE 1021, absence of solvents and noxious substances OEKO-TEX Standards.
- Red-trimmed upholstery.
- STATIONS:
High pulley with seat and leg supports adjustable in height.
Leg extension / Shoulder Press.
Chest Press / dorsal rower.
Adjustable output pulley exercises triceps, biceps, gluteus, adductors, ...
- Plates with low friction bushings.
- Selectors load with magnetic safety system.
- Adjustable levelers on base.
- You can change the position of the stations.
- Made in EU.
Another sports equipment from category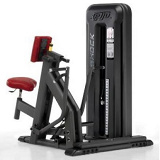 Seated row
Article: AVTJ3016
Length: 1187 mm.
Wide. 1161 mm.
Height: 1505 mm.
Weight: 188 Kg
Main frame: Steel tube of 120x50x2mm OVAL. and 100x50x2 mm.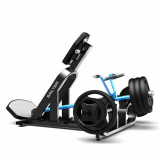 T-Bar row plate loaded
Article: AVSA1081
Material: 3 mm steel chassis
Dimensions: 180x164x125 cm
Color: Black, grey
Purpose: training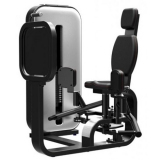 Abductor/ Adductor
Article:AVSA1028
Material: 3 mm reinforced steel
Dimensions: 129 x 133 x 157 cm
Color: Black, grey
Workload: 75 kg
Purpose: training