Lumbar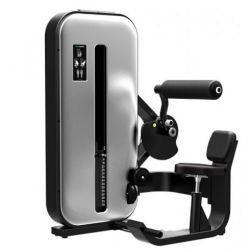 Article: AVSA1010
Material: 3 mm reinforced steel
Dimensions: 110x100x157 cm
Color: Black, grey
Workload: 75 kg
Purpose: training
Additional:
- 200º polyester powder coating, black matt finishing.
- Transmission pulleys with ball bearings.
- High resistance power cable tensor built.
- Thermoformed weight-stack cover, aluminium effect.
- Tray for objects on the top.
- Antibacterial upholstery MRSA Standard, SANITIZED, fireproof M2 Standard, UNE 1021, absence of solvents and noxious substances OEKO-TEX Standards.
- Red-trimmed upholstery.
- Anatomic seat.
- 5-position stainless steel goniometer to adjust starting position / angle of the exercise.
- Height adjustment of lever arm.
- Non-slip rubber covered grips.
- Stainless steel plate guides.
- 5 kg weight plates with low friction bushings.
- Load selector with magnetic security system.
- Adjustable levelers.
- Descriptive pictogram of the exercise.
- QR code that provides link to instructional video.
- Made in EU.
Another sports equipment from category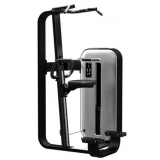 Dip/ Chin assist
Article:AVSA1024
Material: 3 mm reinforced steel
Dimensions: 130 x 144 x 218 cm
Color: Black, grey
Workload: 75 kg
Purpose: training
6 Station pulley cross over
Article: AVTJ3015
Length: 6023 mm.
Width: 2311 mm.
Height: 2235 mm.
Weight: 1063 kg
Main frame: Steel tube of 120x50x2mm OVAL. and 100x50x2 mm.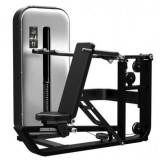 Pec press/shoulders
Article:AVSA1021
Material: 3 mm reinforced steel
Dimensions: 187 x 147 x 157 cm
Color: Black, grey
Workload: 100 kg
Purpose: training