Hurdle Alu-Matic. IAAF certificate.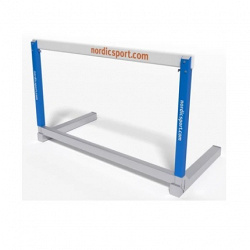 Article:

AVNO0053

Fully automatic aluminium hurdle. Adjustable heights from 762 mm to 1067 mm. Hurdle crossbar made out of plastic.

Adjustment of the height and base weights is done simultaneously with one single handgrip. Base-weights are made of steel with Teflon bearings. All protruding parts have been eliminated to prevent injuries and facilitate stacking and transportation. The ingeniously simple hurdle cart on which you can transport up to 8 hurdles at the same time, can be ordered as extra equipment. Made in EU.
Another sports equipment from category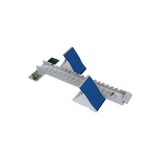 Competition starting blocks. IAAF certificate.
Article: AVDM1184
This model is equipped with extra wide pedals/blocks for easy start with more efficiency.
Wide center rail made from extruded aluminum with 18 possible adjustments. Pedals adjustable to 4 different angles. Comes with spikes for use on synthetic tracks. Made in EU.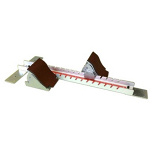 Сompetition starting blocks. IAAF certificate.
Article: AVDM1083
Colour: Grey, brown
Compliance with: I.A.A.F Certified n° E—02—0340
Nice—looking model, heavy, stable and highly technical.
Wide center rail in extruded aluminium, very rigid with 18 adjustment options. 4 block angle positions. Blocks interchangeable with synthetic pads. Delivered with spikes and pins to hold the starting block on synthetic or cinder track. Made in EU.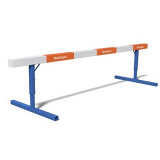 Steeplechase Hurdle 5 m. IAAF certificate.
Article: AVNO0059
Length: 5 m.
Adjustable height.