Post for backstroke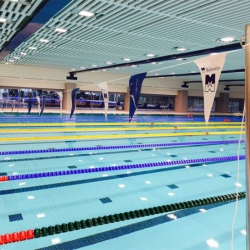 Article:

AVML1053

Made in: EU

Measurement: Ø 40 x 2 mm, Height 2100 mm.

Material: Stainless steel EN 1.4404.

Stainless steel post for backstroke turn indicator/warning and false start ropes.
Manufactured with a welded on hook. Mounted on the pool deck with floor anchor 2010001 (inclination 4º, 8º level floor).
Another sports equipment from category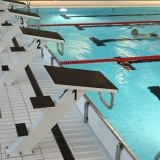 Turn board plastic
Article: AVML1011
Made in: EU
Turn board in plastic with cable fastening. The attachments are made of seamless pipes, diameter 40 x 2 mm, fitting floor mount.
Material: Plastic and Stainless steel EN 1.4404.
1950x300mm alt 2450x300mm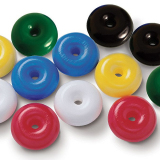 Donut Floats
Article: AVML1059
Made in: EU
Dimensions Ø 70 mm.
Polyolefin with UV protection and color additives.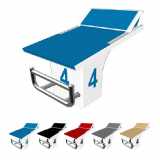 Swimming starting block OMEGA OSB14
Article: 3454.707.TS.BL
Manufacturer: Swiss Timing (Switzerland)
Category: part of swimming timing and scoring system
Specifications:
Adjustable footrest, Antislip surface, Available versions: standard or with RBD (Relay Break Detection) Swimming starting block
■ Dimensions:
Overall size: 739 x 518 mm
Platform size length x width: 740 x 518 mm
Height: max. 655 mm
■ Material: fiberglass
■ Weight: 31 kg
■ Top surface color on your choice (Black / Grey / Ivory / Red, Blue by default)
Certificates: FINA demand compliance