Post for backstroke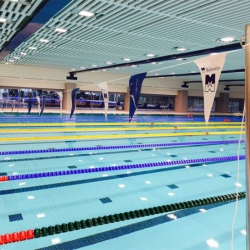 Article:

AVML1053

Made in: EU

Measurement: Ø 40 x 2 mm, Height 2100 mm.

Material: Stainless steel EN 1.4404.

Stainless steel post for backstroke turn indicator/warning and false start ropes.
Manufactured with a welded on hook. Mounted on the pool deck with floor anchor 2010001 (inclination 4º, 8º level floor).
Another sports equipment from category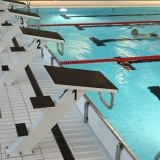 Turn board plastic
Article: AVML1011
Made in: EU
Turn board in plastic with cable fastening. The attachments are made of seamless pipes, diameter 40 x 2 mm, fitting floor mount.
Material: Plastic and Stainless steel EN 1.4404.
1950x300mm alt 2450x300mm

Starting block 1009
Article: AVIN1009
Made in: EU
Material: Stainless steel, Polyester thermosetting resin
Dimensions:
Block size: 500 x 700 mm, Thickness
Base: White
Platform: Non—slip blue paint, other colors on request.
Compliance with:
Made according to FINA rules Additional: Wall or any 30cm platform mounting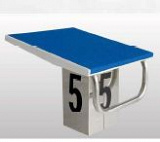 Starting block 1008
Article: AVIN1008
Made in: EU
Material: Stainless steel, Polyester thermosetting resin
Dimensions:
Block size: 500 x 700 mm, Thickness
Colour
Base: White
Platform: Non—slip blue paint, other colors on request.
Purpose: Non—professional competitions, training, amateur sports
Compliance with: Made according to FINA rules
Additional: Wall or any 30cm platform mounting