Finishing lines for Open Water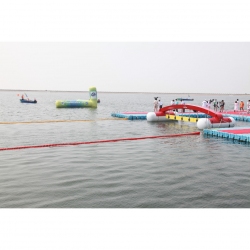 Article: AVML1052
Size: Ø 100 mm, length 50 m or any other length.
Wire: 4 mm stainless steel
Disks and floats: polyethylene
One line is red, the other is yellow. Alternative colors: white, green, blue, black and orange.
The dye has a minimum additive of 8000ppm UV stabilizer and antioxidant
Color fastness 8 for all colors.
Made in: EU
Finishing lines are made in order to allocate 50 final meters in open water competitions.
These lines are made of 100mm material and with snap hooks at each end.
Another sports equipment from category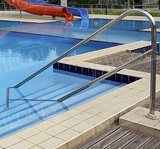 Handrails and barriers
Article: AVIN1033
Handrails and barriers stainless steel (AISI 316)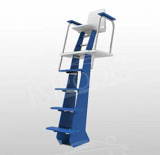 Surveillance high chair
Article: AVIN1034
Lifeguard use, permanent or movable, built with stainless steel (AISI 316).
Electro polished or powder painted finishing.
Copolymer no—slip steps and polypropylene chair, both with no—UV treatment.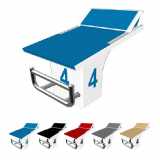 Swimming starting block OMEGA OSB14
Article: 3454.707.TS.BL
Manufacturer: Swiss Timing (Switzerland)
Category: part of swimming timing and scoring system
Specifications:
Adjustable footrest, Antislip surface, Available versions: standard or with RBD (Relay Break Detection) Swimming starting block
■ Dimensions:
Overall size: 739 x 518 mm
Platform size length x width: 740 x 518 mm
Height: max. 655 mm
■ Material: fiberglass
■ Weight: 31 kg
■ Top surface color on your choice (Black / Grey / Ivory / Red, Blue by default)
Certificates: FINA demand compliance